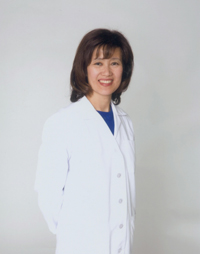 Dr. Jean Cheng, MD
8990 Garfield St, Riverside, CA 92503, USA
(951) 785-5421
About
Jean Cheng, MD, is an ophthalmologist with special expertise in laser vision correction surgery. A leading Riverside-area LASIK surgeon, she has more than 10 years of experience, during which time she has performed thousands of successful laser refractive surgeries. Dr. Cheng has developed an outstanding reputation due to her meticulous attention to detail and her personalized, attentive patient care — a combination that consistently leads to exceptional, highly rewarding vision correction results.
Dr. Cheng believes that the best LASIK outcomes are achieved through a close, open dialogue between the surgeon and the patient. This is why she spends ample time with all of her patients learning about their vision correction goals, lifestyle needs and medical concerns. Dr. Cheng takes the time to thoroughly explain the LASIK procedure, then conducts a tour of her surgical facilities and introduces the patient to her team of highly experienced medical professionals. She also encourages patients to ask as many questions as possible and provides straightforward, comprehensive answers. During this unhurried consultation process, Dr. Cheng strives to empower her patients to make informed, independent treatment decisions that help lead to positive vision correction results.
Dr. Cheng is dedicated to providing the highest quality surgical care in the safest, most comfortable manner possible. She performs all LASIK procedures, as well as cataract surgery and Visian ICL treatments, at her state-of-the art outpatient surgery center, which has passed the stringent safety requirements necessary to achieve full certification by Medicare and the State of California Department of Health Care Services. In order to provide precise, highly effective laser vision correction treatments, Dr. Cheng uses some of the latest LASIK equipment, including the sophisticated VISX STAR S4 laser platform with CustomVue technology with Iris Registration.
Dr. Cheng begins each LASIK procedure by using specialized WaveScan wavefront equipment to create a detailed 3-D map of the patient's eye. This map reveals minute imperfections unique to each eye, many of which go undetected in traditional laser scans. After preparing the patient's eye by creating a tiny flap in the cornea, Dr. Cheng uses the 3-D map to precisely program the excimer laser, which reshapes the cornea so that it refracts light rays properly. To further enhance the precision and safety of the LASIK procedure, Dr. Cheng uses ActiveTrak eye tracking technology, which follows the tiny, rapid movements of the eye and adjusts the excimer laser accordingly.
In addition to performing LASIK refractive surgery, Dr. Cheng also provides many patients with Visian Implantable Collamer Lenses (ICL). She recommends and performs this treatment for certain nearsighted patients who wish to reduce their dependence on glasses and/or contact lenses but do not qualify for LASIK surgery. Dr. Cheng is also experienced in cataract surgery and treatments for pterygium and glaucoma.
Jean Cheng, MD, earned her Bachelor of Arts degree from the University of California at San Diego, graduating with honors. Dr. Cheng received her Doctor of Medicine degree from the Loma Linda University School of Medicine in Loma Linda, California, and completed her internship and ophthalmology residency at the world renowned Loma Linda University Medical Center. She is committed to staying current on the latest developments in the field of laser vision correction by regularly attending advanced continuing education courses and seminars.
Female
Loma Linda UniversityResidency;Arrowhead Regional Medical CenterInternship;Loma Linda University School of MedicineMedical School
CA State Medical License, 1996 - 2017