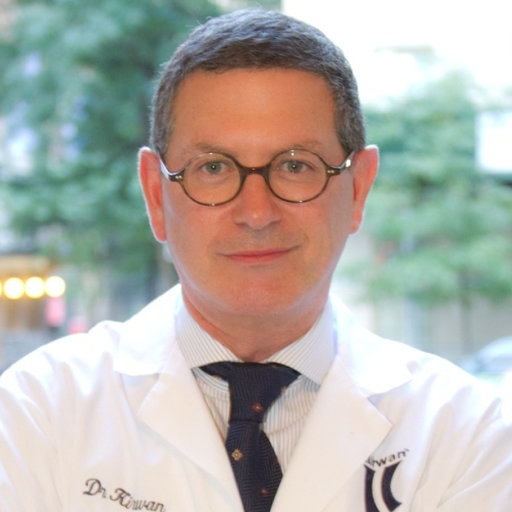 Dr. Laurence Kirwan, MD
742 Park Avenue, New York, NY 10021, USA
(212) 838-8844
About
Laurence Kirwan, MD, FRCS, FACS, is a world-renowned plastic surgeon with extensive specialty training and experience in the areas of cosmetic and reconstructive surgery.
As a meticulous and distinguished physician, Dr. Kirwan skillfully combines his refined surgical skill and cultivated, artistic appreciation of aesthetics to perform an array of beautifying procedures for the face, breast, and body. His devotion to the pursuit of perfection in plastic surgery is highly-regarded by his patients and peers. Dr. Kirwan is repeatedly featured in a host of major international magazines and publications, some of which include Tatler, Elle Magazine, Marie Claire, and Red Magazine. Most recently, Dr. Kirwan was named as one of the "Top 20 Plastic Surgeons World-Wide" in Russian Vogue.
Dr. Kirwan earned his medical degree from the renowned Victoria University of Manchester in 1974. He completed an intensive plastic surgery residency program at the University of Missouri in Kansas City. He went on to earn specialty Plastic Surgery certification from the American Board of Plastic Surgery in Plastic Surgery. After a Fellowship in Hand Surgery and Microsurgery in Denver, Colorado, he was certified by the American Board of Plastic Surgery in Surgery of the Hand. He is also a recognized Specialist in Plastic Surgery in the Republic of Ireland as well as Finland.
In recognition of his academic and professional accomplishments, Dr. Kirwan was appointed Professor of Aesthetic Plastic Surgery at the University of Belgrade in 1996, in addition to gaining Fellowship in the Royal College of Surgeons of England (FRCS) and the American College of Surgeons (FACS).
Dr. Kirwan maintains active membership in a number of professional medical organizations, including the American Society for Aesthetic Plastic Surgery and the American Society of Plastic Surgeons.
Dr. Kirwans dedication to maintaining strict medical standards has earned him surgical privileges at a number of prominent hospitals both in the United States and internationally, including New York Eye and Ear Infirmary, New York, New York USA; Norwalk Hospital, Norwalk, Connecticut USA; Greenwich Hospital, Greenwich, Connecticut USA; The London Independent Hospital, London, England; Hospital of St. John & St. Elizabeth, London, England; and West London Clinic, London, England.
Male
Truman Medical Center - West; University of Colorado; University of Colorado; University of Southern California - LAC+USC Medical Center; New York Presbyterian Hospital - Columbia Campus; University of Manchester Faculty of Medicine
American Board of Plastic Surgery
CT State Medical License; CA State Medical License; NY State Medical License
American Society of Plastic Surgeons - ASPS; American College of Surgeons - ACS
Dr. Laurence Kirwan's Treatments
Breast Augmentation
Breast Lift
Breast Reconstruction
Male Breast Reduction
Liposuction
Body Contouring
Face Lift
Eyelid Surgery
Brow Lift
Rhinoplasty
Injectable Fillers
Laser Skin Treatments