Quick Summary
Prevelle Dermal Filler
Active Ingredient
Hyaluronic acid
Procedure Length
10-30 Minutes
Risks
Pain, infection, allergic reaction, etc.
Recovery Time
Back to work immediately
Side Effects
Swelling, pain/tenderness, redness and lumps/bumps
Final Appearance
1 to 2 weeks
Duration of Results
3-6 months
Average Cost
$400 for a syringe
Overview
What is Prevelle?
Prevelle is an injectable dermal filler used to treat moderate to severe wrinkles and facial folds that was approved by the FDA in March 2008. It consists of a clear gel containing hyaluronic acid, which occurs naturally in the body to hydrate and cushion the skin. Once injected, the gel plumps the skin, smoothing away creases.
Are you a candidate?
Most candidates for treatment are 35 to 60 years old and are beginning to see the signs of aging in their face.
This treatment is often used for the nasolabial folds, the lines running from the corners of the mouth to the sides of the nose.
It is recommended for those who have not previously used dermal filler injections, since the results only last three to six months. This allows patients to 'try on' the results of treatment without committing to a long-term change in their appearance.
Most adults who are in good overall health are medically able to undergo treatment. Prevelle should not be used in patients with a history of allergic reactions to lidocaine or certain other allergies or medical conditions.
Tell your doctor about your medical history and any medications you are on so that he or she can determine whether this treatment is right for you.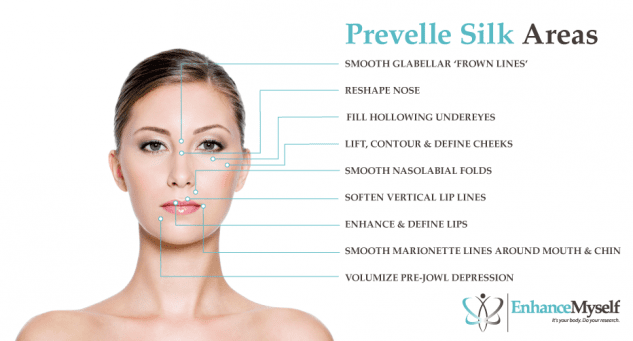 Treatment details
The treatment session usually lasts 30 minutes to an hour and takes place in the doctor's office.
Prevelle contains lidocaine, a local anesthetic to reduce discomfort at the time of injection. Because the anesthetic is contained within the injection itself, no local or topical anesthesia is required prior to treatment.
The number of injections needed depends on the area being treated and the depth of the wrinkle.
Using a tiny needle, the doctor injects the gel into the targeted facial fold.
Safety information
The potential side effects include temporary swelling, tenderness, and redness. These are typically mild, and fade within two to three days.
The injected gel may also gather into a lump or bump under the surface of the skin. This risk may be minimized by selecting an experienced cosmetic doctor who is fully trained in the injection process.
Because hyaluronic acid is naturally found in the body, there is little risk of an allergic reaction unlike with other injectable cosmetic fillers.
Recovery time
After treatment, many patients return to work immediately. There are no bandages required, and side effects are mild.
Some patients undergo a 'touch-up' visit for further correction one to two weeks after the initial injection, although other patients find this unnecessary.
Over time, the injected Prevelle will be broken down by the body and the wrinkles will reappear.Because of this, treatment is required every 3 to 6 months to maintain the results.
What's the Cost?
Prevelle costs about $400 for a syringe containing 0.075ml of the hyaluronic acid-based gel. Some patients need just one syringe to achieve the desired results, while others will require two or three, particularly to treat a larger area or deeper fold.
The exact cost will depend on your geographic region, the doctor you select, and other factors. Most doctors offer payment plans and financing options to make this treatment affordable.