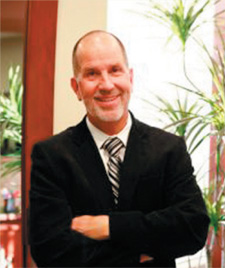 Dr. Richard Burns, MD
3969 4th Ave, San Diego, CA 92103, USA
(858) 354-1809
About
Richard Burns, MD, is a board-certified ophthalmologist who specializes in vision correction surgery. He has performed refractive surgery for more than 21 years and has corrected the vision of thousands of Inland Empire, Temecula, and Southern California patients.
Dr. Burns is well known for his expertise in laser vision correction. He is the refractive surgeon of choice for many patients with vision-intensive occupations, such as policemen and firefighters, and by many other physicians. He has appeared on national radio and television shows and has performed LASIK on numerous celebrities, including Robin Facer, the reigning "Mrs. California."
Dr. Burns stays on the cutting edge of new technology. He was one of the first surgeons in the United States to correct farsightedness with the holmium laser, and he offers his patients only the most advanced surgical technology. For LASIK he features the combination of Wavefront CustomVue and the "All Laser LASIK" IntraLase procedure. He also offers the newest technology IOLs (intraocular lenses), such as the ReSTOR lens, which can simultaneously correct for near and distance vision. Dr. Burns implants these new technology lenses for cataract patients and those "over 40" patients who would like to see at near and distance without glasses.
Dr. Burns and his staff at Advanced Cataract Surgery and LASIK are focused on providing the highest quality care. Dr. Burns personally evaluates each of his patients, from their first consultation to their last follow-up, including a personal call to his LASIK patients the night after their surgery. Besides his outstanding credentials and up-to-date technology, his patient-physician relationship is a keystone to his success. His focus on patient care helps to ensure optimum results from refractive surgery.
Dr. Burns and the surgeons and staff of Advanced Cataract Surgery and LASIK employ only the best diagnostic and surgical technology. For LASIK surgery, the VISX Star S4 CustomVue excimer laser system is used. Each patient's eye has a unique curvature, similar to a "fingerprint" for the eye. The VISX CustomVue system provides a highly accurate measurement of this eye fingerprint and creates a customized laser profile to correct each eye. To create the corneal flap during LASIK, California Eye Professionals offer the highly advanced "Bladeless" or "All Laser LASIK" procedure known as IntraLase. In addition to LASIK surgery, LASEK and PRK surgery are offered for laser vision correction.
Dr. Burns received his medical doctorate from the world-renowned Mayo Clinic in Rochester, Minnesota. Following medical school, Dr. Burns completed his ophthalmology residency at the University of California, San Diego where he was Chief Resident in 1984. He served as a clinical instructor of ophthalmology at the UCSD School of Medicine following his residency.
Dr. Burns is a former Chief of Ophthalmology and former Chief of Surgery at Sharp Rees-Stealy Medical Group, and a former Chief of the Department of Ophthalmology at Sharp Cabrillo Hospital.
Dr. Burns has published numerous scientific articles in a wide variety of medical journals and is a frequent guest lecturer about advancements in refractive and cataract surgery. He is an active member of the American Society of Cataract and Refractive Surgery, the International Society of Cataract and Refractive Surgery, and a Fellow in the American Academy of Ophthalmology.
Advanced Cataract Surgery & LASIK
Male
Dr. Richard Burns's Treatments
Laser Vision Correction
Cataract Treatment
Laser Hair Removal