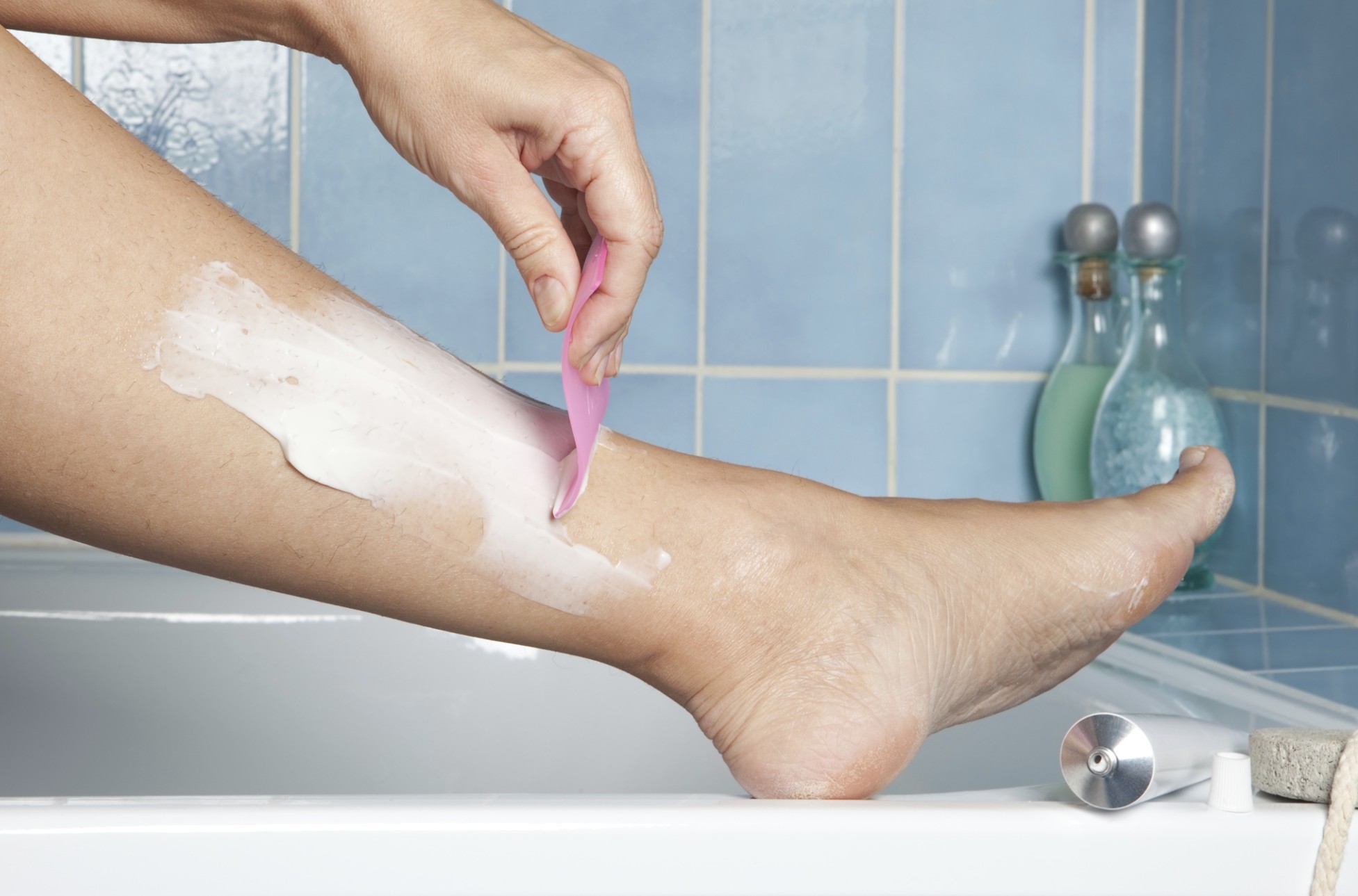 Every woman desires shiny, thick hair – but not all over. Show some skin without the embarrassing fuzz with these hair removal techniques.
1. Shaving
When you're in a hurry, shaving is the go-to solution for hairy areas. A razor or electric shaver snip hair very close to the skin, temporarily creating suave skin. Rumor has it that shaving results in coarser, thicker hair, but that is false. Because new hair has a fine tip, it appears softer. Shaving removes that point, causing hair to grow back looking bristlier. To ensure a clean cut, shave skin when it's wet and lathered in soap or shaving cream. Always shave in the same direction that the hair grows. Prevent a gory mess in the shower by always replacing dull blades, especially if there are signs of rusting. With shaving, you can expect to be hair free from 1 to 3 days. However, shaving can cause ingrown hairs, particularly the bikini area.
2. Waxing
If you prefer a temporary fix to get you through bikini season, waxing might be for you. Ripping the hair off your body may sound like a horrible experience, but it's pretty quick and results can last between 3 to 6 weeks. Professional cosmetologists apply a sticky liquid over the shaggy areas and top it with cloth strips. Once the wax dries, the strip is pulled off quickly, and poof the hair goes with it. When you wax at home, it's important to research the different kits available. Always test a small area first to ensure you're not allergic to the formula. If required, warm the wax to a comfortable temperature to prevent burning your skin. Most importantly, apply the wax in the direction that hair grows, and pull the cloth strips in the opposite direction. Whether you self-treat or pay a professional, your hair needs to be between 1/4 and 3/4 of an inch long so the product can adhere to the hair. Cons to waxing include redness and bumps, so consider this treatment a few days prior to baring skin.
3. Depilatory Creams
Does waxing sound like a torturous beauty technique? If so, depilatory creams might be a suitable alternative. These creams dissolve proteins that make up the hair and are best used on legs, underarms and bikini areas. For unwanted whiskers, look for a specialized formula that treats facial areas. Smooth skin can last anywhere between a few days up to a few weeks, since you aren't pulling out the root. Prevent irritated skin by confirming the application time.
4. Laser
According to the American Society for Aesthetic Plastic Surgery, laser hair removal is the top 3rd nonsurgical procedure for both men and women combined. This technique might sound frightening but it's a convenient and noninvasive procedure. A technician uses a laser or intense pulsed light (IPL) over affected areas, which destroys the hair root. Lasering hair off is a long-term solution for all areas of the body, though it can take 6 to 12 sessions for optimal results, with a touch up session every 6 to 12 months. Unfortunately, this procedure isn't for everyone. While women with dark hair and light skin can benefit from the smoothness, this method doesn't work on blond or white hair. The cost for this cosmetic treatment is approximately a whopping $500 per session and it's important to know that if done incorrectly, it can cause burns, hyperpigmentation, and even increased hair growth. Many state medical boards permit non-physicians to handle lasers, with little, if any oversight, so make sure to do your research and ask many questions before signing on.
5. Electrolysis
Another technique that does away with unwanted bristles permanently is electrolysis. This practice involves a trained professional inserting a fine probe into each hair follicle and destroying the root with an electric current. Since it's a lengthy process, electrolysis is best suitable for small areas. As opposed to laser hair removal, electrolysis may work for blond or white hair. Permanent hair removal varies from person to person, but expect to have a session every 1 to 2 weeks until you're ready to bare all. It's imperative to note that the effects of electrolysis can include redness, swelling and scarring.