Quick Summary
Dental Implants
Procedure Length
Entire treatment process varies widely from "same-day" to several months
Anesthesia
Local anesthesia
Types of Implants
Endosteal (placed in jawbone) and subperiosteal (placed under gum)
Purpose
An implant s

erves as the roots of missing teeth
Possible Side Effects
Infection, gum recession, loose implant, nerve or tissue damage, etc.
Recovery Time
A few days to months depending on a variety of factors
Duration of Results
Implants can last a lifetime when properly maintained
Dental Implant Cost
The average cost of dental implants can range from $3,500 to $6,500 per tooth , depending on the type of implant and number needed.
Overview
What are dental implants?
When it comes to missing teeth, there are a variety of restorative options to choose from. Dental implants are considered by many to be the best treatment option for achieving an authentic look that offers stability and comfort. They are specially made to look and function like natural teeth.
A dental or tooth implant is a threaded titanium post that is placed into a small hole during surgery in the upper or lower jaw. Implants take the place of natural tooth roots and provide a stable base for the attaching artificial teeth, known as crowns. The implant and crowns are connected by an abutment to support and hold the tooth into place.
Cost of dental implants
The average cost of dental implants can range from $3,500 to $6,500 per tooth according to the American Dental Association (ADA). The following are the average costs for different types of dental implant treatments:
Single Tooth Implant: Involves the placement of an implant in the jawbone to support a crown that replaces a single missing tooth. On average, the cost is between $3,500 to $5,000. This cost includes the implant surgery, abutment, and the dental crown.
Implant-Supported Bridge: Used to replace multiple missing teeth. The bridge is secured to dental implants rather than natural teeth. The cost varies depending on the number of implants required and the complexity of the case. On average, the cost is between $4,000 to $15,000 or more.
All-on-4 or All-on-6 Implants: Designed for patients who are missing all or most of their teeth in a dental arch. This technique involves the placement of four or six dental implants that support a full arch denture. The average cost is between $20,000 to $40,000 per arch.
Mini Dental Implants: Smaller in diameter than traditional implants and are often used for stabilizing dentures or for cases with limited bone volume. The average cost is between $500 to $1,500 per implant.
The costs mentioned above are average estimates and may vary depending on various factors.  To get a quote, schedule a consultation with an experienced implant specialist who can provide you with an estimate based on your specific needs.
Factors affecting the cost of treatment
There are several factors that can affect the cost of your procedure. Here are some of the top factors that influence cost.
Your Dentist: The experience and reputation of your dentist can affect the cost of your procedure. Usually, dentists with extensive training or specialization may charge higher fees. When choosing an implant dentist, ensure they are certified by the American Academy of Implant Dentistry (AAID). Although board-certification and memberships in any organization does not guarantee a successful outcome, dentists must meet stringent criteria in order to achieve membership and board-certification. You can be confident that you are working with a highly trained, and experienced implant dentist who will help ensure your procedure goes smoothly.
Location Matters: Where the dental practice is located can impact the cost.  Dental services in urban areas or regions with a higher cost of living often come with a heftier price tag compared to rural areas. If you want a general idea of the prices for dental procedures in your local area, you can use the Healthcare Blue Book, which functions similarly to Kelley Blue Book for estimating car prices.
Number of Implants: The cost of dental implants will depend on the number of teeth that require treatment. Each tooth will have a separate fee, so the more teeth that need implants the higher the overall cost.
Preparation Procedures: In some cases, procedures such as bone grafting may be necessary to ensure the implant's success. These preparation procedures help create a suitable foundation for the implant.
Implant Material: Dental implants can be made of different materials, including titanium and zirconia. Titanium implants are more commonly used and tend to be less expensive than zirconia implants. The choice of implant material may impact the cost of the procedure.
Prosthetic Options: The type of dental prosthesis placed on the implant also affects the overall cost. Depending on your specific needs, options may include single crowns, implant-supported bridges, or full arch dentures. The complexity and materials used in the prosthetic restoration will influence the final cost.
Dental Insurance: In certain cases, dental implants may be covered by insurance if it's deemed necessary for functional purposes, such as in cases where tooth loss affects speech or the ability to chew.
If you are considering dental implants, schedule a consultation with an experienced cosmetic dentist near you. This will allow you to discuss your dental goals and gain a thorough understanding of the specific cost breakdown and factors that pertain to your individual case.
Is the cost covered by insurance?
Dental insurance coverage can vary by both the insurance provider and your specific policy. Many insurance plans offer different levels of coverage, ranging from partial coverage to none at all, or coverage only under certain conditions. Review your policy carefully or reach out directly to your insurance provider.
Typically, dental insurance plans tend to categorize dental implants as a cosmetic or elective procedure rather than a medically necessary one. This classification often comes with limitations or exclusions on coverage. However, there are instances where dental insurance plans may cover implants if they are deemed necessary to restore proper dental function. For example, cases where tooth loss affects speech or the ability to chew may warrant coverage.
Even if your dental insurance does cover dental implants, it's important to be aware of potential limitations, waiting periods, or annual maximums on coverage. Also, certain aspects of the procedure, such as bone grafting or pre assessments may not be covered.
To obtain a comprehensive understanding of your insurance coverage, consider the following steps:
Review Your Policy: Carefully read through your dental insurance policy. This will help you grasp the details of your coverage, as well as any limitations and exclusions related to dental implants.
Contact Your Insurance Provider: Speak with your insurance provider and ask specific questions about coverage for dental implants. Inquire about the extent of coverage, any requirements, and whether there's a need for documentation or pre-authorization.
Meet with a Dentist: Schedule a consultation with a dentist near you who can assess your specific case and provide you with a breakdown of costs.
Financing Options: If your insurance coverage falls short or doesn't cover dental implants, inquire about financing options available through the dental practice. Many dental offices offer payment plans or collaborate with dental financing companies to help make the cost of dental implants more manageable.
In summary, speak with your local dentist and insurance provider to understand your coverage and any potential out-of-pocket expenses associated with dental implants. Learn more about the basics of dental insurance from the National Association of Dental Plans (NADP).
Are dental implants right for you?
If you have a missing tooth or teeth, you cannot simply choose to have a dental implant as your restoration of choice. Dental implant candidacy is determined based on several factors, including:
Oral health: Oral health issues that must first be treated before an implant can be considered. Gum disease, for example, will affect your candidacy.
General health: Diabetes and cancer are two examples of health conditions that may prevent implantation.
Age: Implantation may only be considered after adolescence, once bone growth is complete.
Bone/gum tissue: An insufficient level of bone and/or gum tissue may prevent implantation without a bone or gum graft.
Smoking status: If you are a smoker, you will be advised to quit before treatment. Implant failure is considerably higher with smokers.
Crowded teeth: If your surrounding teeth are too close together, it may not be possible to fit an implant in the space. These cases require alternative considerations.
Dental implant procedure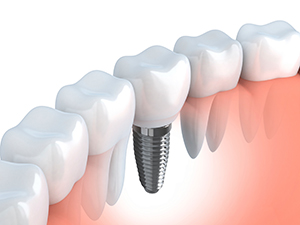 The dental implant procedure is typically performed in multiple stages and requires the collaboration of a skilled dental professional, such as an oral surgeon or a periodontist. The following is a general overview of how a dental implant procedure is typically performed:
Initial Consultation: The first step is an initial consultation with your dentist. They will examine your oral health, evaluate the condition of your jawbone and remaining teeth, and discuss your treatment goals and options. X-rays, CT scans, or other imaging techniques may be used to assess bone quality and plan the implant placement.
Preparatory Procedures (if necessary): In some cases, preparatory procedures may be required before the implant placement. These may include tooth extraction, bone grafting to augment the jawbone if it lacks sufficient density or volume, or a sinus lift if the sinuses are too close to the implant site.
Implant Placement: The implant placement is a surgical procedure that is typically performed under local anesthesia. The dental professional will make an incision in the gum tissue to expose the underlying jawbone. Then, a small hole is drilled into the bone at the predetermined location for the implant. The implant, which is a titanium post resembling a screw, is carefully inserted into the bone. The gum tissue is then stitched back into place, covering the implant.
Osseointegration: After the implant is placed, a process called osseointegration occurs. This is when the implant fuses with the surrounding jawbone over a period of several months. During this time, the bone grows and integrates with the implant, providing a stable foundation for the future restoration.
Abutment Placement: Once osseointegration is complete, a minor surgical procedure is performed to attach an abutment to the implant. The abutment is a connector that protrudes through the gum line and serves as the attachment point for the final dental restoration.
Final Restoration: After the gums have healed around the abutment, impressions of your teeth are taken to create a custom-made dental crown, bridge, or denture. The final restoration is designed to match the color, shape, and size of your natural teeth, providing a natural-looking appearance.
Follow-up Visits: Regular follow-up visits are scheduled to monitor the healing process, ensure proper fit and function of the restoration, and address any concerns or adjustments that may be needed.
Your dental professional will give you comprehensive guidance on both pre-operative and post-operative care. This is important to ensure that your dental implants heal successfully and lead to long-term success.
Recovery time
The recovery time after a dental implant procedure can vary depending on several factors, including the individual's overall health, the number of implants placed, the location of the implants, and the complexity of the procedure. In general, the initial recovery period can last anywhere from a few days to a few weeks. Your dentist will provide you with specific instructions based on your unique circumstances, and it's important to follow them closely for a successful recovery.
How long do dental implants last?
With proper care and maintenance, dental implants can last a lifetime. Their success rate is over 95%, making them a durable and reliable option for tooth replacement.