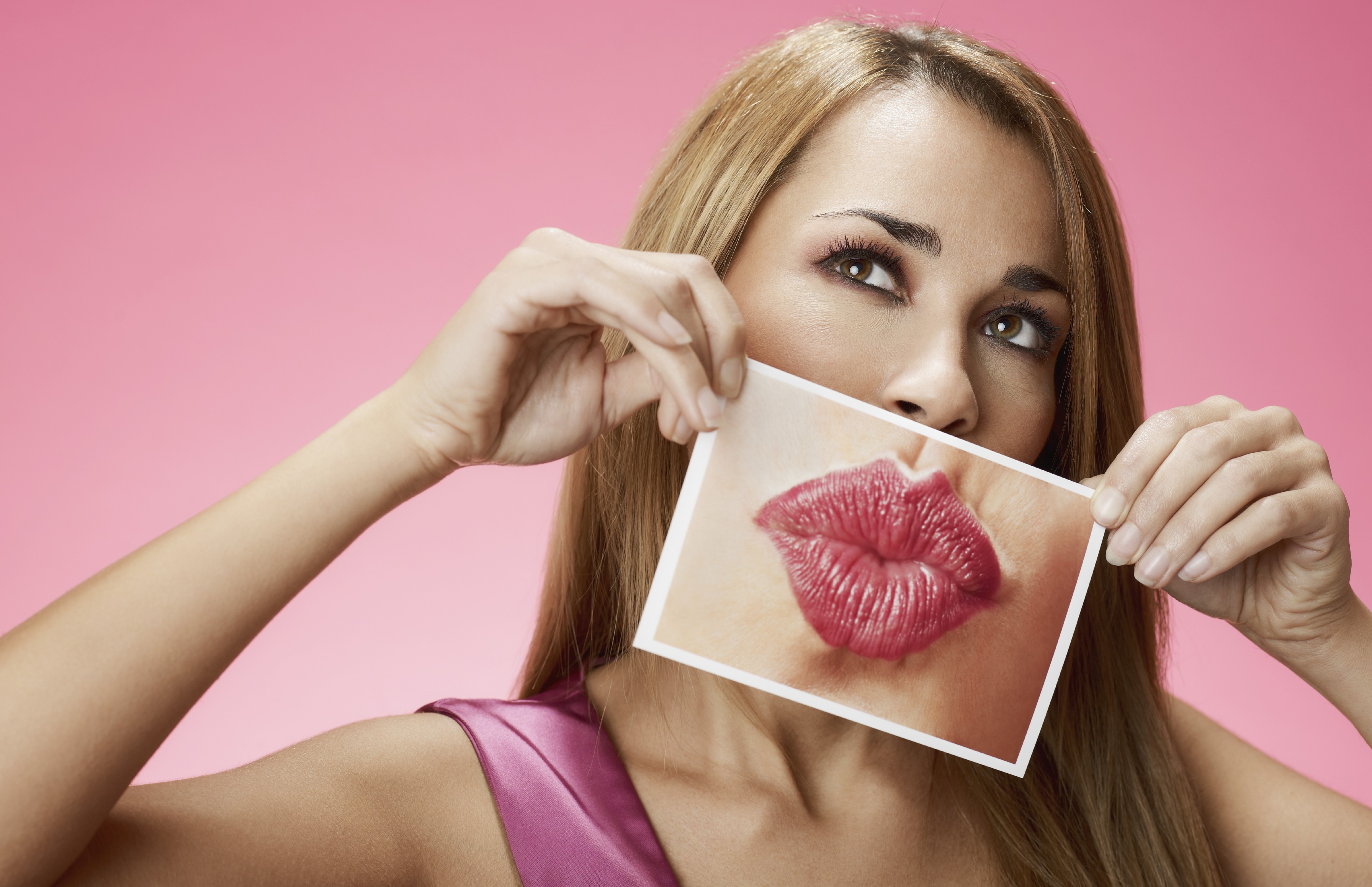 If you want gorgeous, dense, lips without the surgery or shelling out cash on outrageous products (insect venom, really?), a girl's just gotta fake them. With a few simple tricks, you too can achieve a natural, pouty smile.
1. Minty Smile
Turn any boring lip gloss into a magical lip plumper with just one inexpensive ingredient – peppermint oil. The tingly properties of peppermint helps improve blood flow in your mouth, waking up your lips. To make the invigorating lip balm, add 1 to 3 drops of peppermint oil into the lip gloss. Using the wand or a cotton swab, thoroughly mix the oil and gloss. Prior to applying the gloss to your lips, dab a small amount to the tip of a finger and wait a few minutes. If you can tolerate the tingling, continue applying the product on your smackers. For your safety, do not apply the oil directly to your lip as it can cause severe irritation.
2. Scrub-a-Dub-Dub
Your favorite condiments can also dub as an expensive beauty product, without the cost. By mixing a teaspoon of cinnamon and equal part of sugar into a tablespoon of olive oil, you can make a delicious lip scrub. Dip your finger into the mixture and rub it onto your lips in a circular motion. The exfoliating benefits of the sugar helps polish off dead cells from you lips, while the olive oil helps hydrate them. Your lips should soon begin to feel tingly while the cinnamon does its thing. After 5 to 10 minutes, rinse off your lips with lukewarm water and gently pat them dry. Finish off the look with your favorite gloss and enjoy your new juicy lips.
3. Brush it Off
Brushing regularly not only helps you have a clean, inviting smile, but it can also help create a plumper pout. Make a paste of salt, a few drops of water and 2 to 3 drops of lemon juice in a small jar. Using a soft bristle toothbrush, dip the brush into the paste and gently brush your lips. The exfoliation helps boost blood circulation, while the salt removes dirt and dead skin from your lips. Additionally, the bleaching properties in lemon juice helps lighten up stains caused by tobacco, sun damage or low-quality cosmetics, for example.
4. Work your Lips
The aging process doesn't spare any part of your body, including your lips. With time, your pucker can lose muscle tone and circulation. To boost blood flow, firm areas around your face and improve collagen, exercising your lips will improve your pout. Though kissing does count as physical activity, here are a few more exercises for a thicker smile:
Exercise 1 – Close your mouth, and keep your lips relaxed. Allow both your upper and lower teeth to touch gently. Keep your lips and teeth in this position and smile as widely as possible. Hold this pose for a count of 5. Release the hold and form an O shape with your lips, as if you were going to give someone a kiss. Again, hold this position for a count of 5, then release. Repeat this exercise 10 times.
Exercise 2 – Wash your hands and place both of your thumbs under the middle of your top lip, resting your thumbnails against your gums. Use your pointer fingers to gently pull down your upper lip over your thumbs. Hold this position for a count of 5 and release. Repeat the same exercise along the remaining length of your upper lip.
5. Master of Illusion
To achieve beautiful, thick, lips when all else fails, improvise them with makeup. Apply a layer of a nude tone, non-drying concealer over your lips. This will help create a blank canvas, hiding the start and end points of your lips. Choose a lip pencil that is close to the shade of your natural lips, regardless of the lipstick shade you'll be applying. Carefully outline your lips going very slightly outside of your natural lip line, ensuring to accentuate the curves directly below your nose, the Cupid's bow. Using a lip brush, fill in your lips with your favorite shade of rouge. For a sleeker pucker, apply a clear gloss, which will add dimension and shine.