Overview
On this page
Botox is an injectable cosmetic treatment that reduces the appearance of facial wrinkles by relaxing the muscles that cause them. Similar to Dysport, it contains a dilute form of botulism toxin which causes controlled weakening and paralysis of the muscles. As a result, the skin over the muscles is able to relax and the wrinkles are smoothed. Many patients find that Botox can dramatically improve the appearance of smile lines, frown lines, and other facial wrinkles caused by muscle movement.
Approved by the FDA in 2002 for the treatment of moderate-to-severe frown lines between the eyebrows, Botox has become increasingly popular for a range of cosmetic (and non-cosmetic) purposes. In fact, off-label uses for Botox have included treatment for things like chronic migraines, hyperhidrosis (excessive sweating), bladder dysfunction, lazy eye, muscle spasms, temporomandibular joint disorder (TMD) and more.
Are You a Good Candidate for Botox?
Candidates include adult men and women who are in good overall health. You should not undergo Botox injections if you are pregnant or breastfeeding.  Most patients undergo treatment because they are looking to reduce the signs of aging. It is often recommended as a non-surgical alternative to a face lift or brow lift. Some of the facial lines and wrinkles that can be treated with injections include:
Horizontal forehead creases
Laugh lines (from the nose to the corners of the mouth)
Frown lines between the eyebrows
Botox can be used on most lines caused by movement of the facial muscles. However, it is ineffective against those caused by sagging skin, gravity, or sun exposure.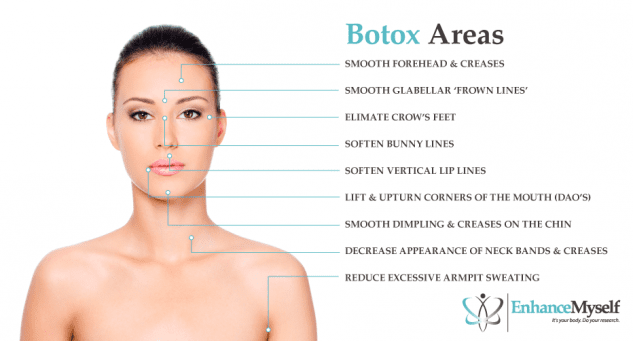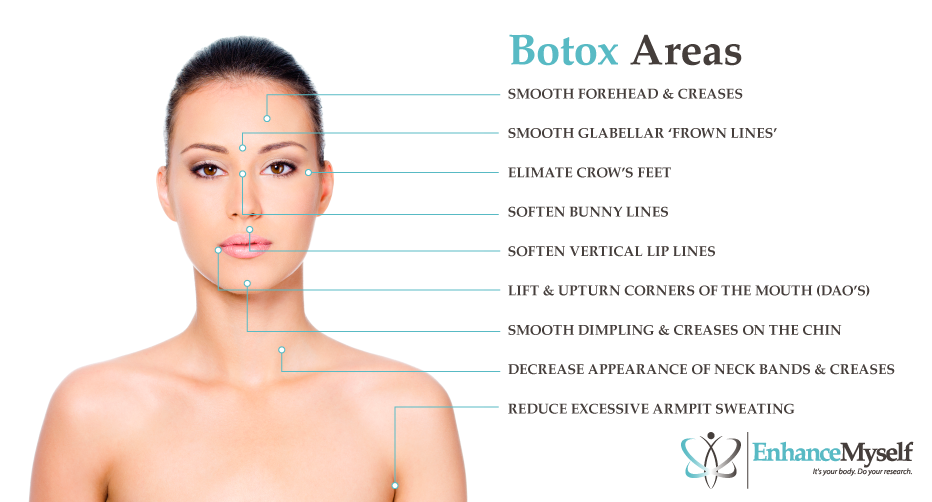 Botox Injections: Procedure
The procedure is typically performed in the doctor's office. As the popularity of Botox soared, access to treatment expanded beyond the doctor's office to places like day spas, nail salons, and even home use in the form of "Botox parties." However, it is strongly recommended that Botox treatment only be performed in a doctor's office at the hands of a professional trained in its application.
Botox treatment does not require any type of anesthesia, although some doctors offer topical or local anesthesia upon request. Once the skin has been cleansed, the doctor will inject each targeted facial muscle with the solution. The entire treatment session can be completed in less than 30 minutes.
Following the injection, the toxin contained in the solution blocks signals sent from the nerve to the muscle. As a result, the muscles are unable to contract; it is this contraction that wrinkles the skin lying over the muscle. With the muscles relaxed, the wrinkles become smooth, giving a more youthful appearance.
Botox Results
The results of Botox treatment are not immediate. Patients should expect to begin seeing improvement in the treated areas three-to-five days after Botox injections. Full results from treatment should be realized within two weeks.
During your initial Botox consultation, your doctor will be able to show you before and after photos from past patients to give you an idea of the results you can expect. However it's important to note that results vary and you may require multiple treatments in order to achieve your desired outcome. Speak with your doctor during your consultation about your goals to ensure that you set your expectations right.
It's important to note that Botox is not a permanent solution to wrinkles. It's a temporary solution to an ongoing problem that will require routine maintenance. Results vary, but you can expect the effects of Botox injections to last roughly four to six months.
Botox Complications & Risks
The Botox procedure is relatively safe if performed by an experienced doctor. However, as with all medical procedures, there are some possible complications associated with Botox injections. While rare, you should call your doctor if you experience:
Muscle weakness in areas other than the treated skin
Vision issues
Difficulty swallowing, speaking or breathing
Allergic reaction (itching, hives, chest tightness, severe swelling)
If the injected Botox migrates to other areas of the body, it can cause slight numbness or, rarely, signs and symptoms of botulism. Another risk is an unnaturally 'frozen' appearance due to paralysis of the muscles involved in facial expressions.
Recovery Time for Botox Injections
Botox is known as a 'lunchtime procedure' because patients can return to their daily activities, including work, immediately. There are no incisions, sutures or bandages required. Side effects are mild, and may include bruising, swelling or redness around the injection site, as well as minor headaches. Patients must avoid laying down for four hours or rubbing the treated area for twelve hours, as this can cause the injected solution to migrate to other areas of the body.
Most patients find that the results of treatment are visible for about four to six months. Gradually, the treated muscles regain their ability to contract, and the wrinkles reappear. Many patients choose to return for follow up injections in order to maintain the results. Certain doctors may offer package deals that allow you to save money on follow up treatments. This helps ensure a steady stream of business for the doctors, but it can also equate to some good savings on the cost of Botox treatment for patients looking to prolong their results.
How Much Does Botox Cost?
The cost of Botox depends on your geographic region, the doctor chosen, the amount of solution needed to achieve the desired results, and other factors. Different doctors in the same town may charge different fees for the same injections. On average each treatment session is around $500. When used for cosmetic purposes, Botox injections are not covered by health insurance. However, many doctors offer financing options and flexible payment plans to make this treatment more affordable.
Botox for Men
As the popularity of Botox has soared, so too has the demand for injections among men. Since the early 2000's when Botox was first introduced, the number of men seeking Botox treatment has grown by some 330+ percent. According to manufacturer surveys, most of the men who opt for Botox want to correct crow's feet, followed closely by correction of forehead lines and wrinkles, and lastly by frown lines.
It's not uncommon for men to see the results of Botox treatments on their wives/partners and want to experience the rejuvenative impact for themselves.