Quick Summary
Breast Reduction
Procedure Length
2-4 hours
Anesthesia
General or local sedation
Risks
Infection, bleeding, asymmetry, nipple sensation, incomplete correction
Breast Reduction Recovery
Back to work, 1-2 weeks. Strenuous activities 3-4 weeks
Side Effects
Temporary discomfort, swelling, bruising
Duration of Results
Long lasting depending on skin elasticity
Cost
The average cost of breast reduction is between $7,000 and $12,000.
Overview
What is breast reduction?
If you feel your breasts are too large or heavy for the size of your body, you may be a good candidate for breast reduction surgery.
For many women, reducing the size of overly large breasts not only increases their self-confidence but provides relief from physical issues such as shoulder, back, and neck pain which oftentimes interferes with normal, everyday activities.
The overall goal of breast reduction surgery is to leave the patient with smaller, lighter, and more proportionate breasts. In many cases, a breast reduction will be combined with breast lift procedure to provide a more youthful and perkier look.
Is surgery right for you?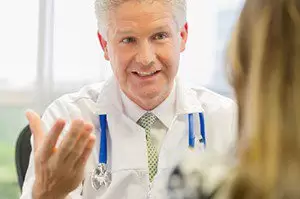 You might be a good candidate for breast reduction surgery if you are:
In good overall health with no major medical issues
Well informed about the procedure and what to expect
Emotionally stable
Experiencing back, shoulder or neck pain associated with overly large breasts
Having difficulty finding dresses or tops that fit
Uncomfortable with your appearance because of the size of your breasts
You may not be a good candidate if you are:
Unhealthy, or have medical issues making you unfit for the procedure
Pregnant, breastfeeding or plan on having children in the future
Not realistic about the expectations, particularly regarding the expected scars and recovery period
History of irregular mammograms
Obese
Smoker
To see if you're a candidate, schedule a consultation with a plastic surgeon. They can make the final decision on whether or not breast reduction is right for you.
What to know beforehand
Before you choose to have breast reduction surgery, you should make sure you understand the procedure, potential outcomes, and risks that may be associated with the surgery and recovery process. Here are some things that patients who had breast reduction surgery wish they had known before having surgery:
You might not be able to get the exact cup size you want. How much your breasts can be reduced depends on your size, breast composition, and goals. During your consultation, your plastic surgeon will help you determine the best plan and give you a realistic idea of what you can expect. Most breast reduction patients go down one to two cup sizes.
You'll get a breast lift, too. The procedure is actually a twofer: Your surgeon will remove excess tissue and skin to make your breasts smaller, and then move the nipples up in position to give them a lift.
You'll have scars, which is a common concern among patients.  Fortunately, there are ways to reduce the appearance of scarring during and after surgery. Most scars generally fade within a year after surgery.
There's a chance you'll have decreased nipple sensation.  This is caused by disruption of the nerves that innervate the nipple. In some cases, women may experience increased nipple sensation that is caused by agitated nerves.
It could affect your ability to breastfeed later. If you plan on breastfeeding, make sure to discuss this with your surgeon.
Insurance might be a battle. Breast reduction may be considered a cosmetic technique by your insurance carrier, especially if only a small amount of tissue is removed.
You want to make sure your breasts are done growing before having a reduction. Breast reductions are generally not recommended for teenagers, as the surgery can affect normal development. However, teenagers who rapidly develop large breasts may struggle with physical and psychological problems as a result.
You may have to lose weight before undergoing surgery. Many surgeons will recommend that overweight women try to lose weight before a breast reduction surgery. In some cases, losing weight is associated with shrinking breast tissue, which could make the surgery unnecessary.
Your breasts won't be perky forever. Breast reduction surgery can provide a lift, but as recovery progresses your breasts will fall somewhat. In addition, as you age your breasts will drop somewhat
You might need to buy new clothing. Breast reduction surgery may affect how your clothing fits.
Types of incisions
Your surgeon will choose the most appropriate type of incision based on a variety of factors such as breast size, sagginess and how much the nipple will need to be relocated.  During breast reduction your surgeon is able to make your breasts appear more symmetrical. This is a common problem in women.
There are three different types of incisions that are typically used:
Donut Incision – Also known as a circular incision, this entails an incision around the areola.
Anchor Incision – Also known as an inverted T, this is a set of three incisions. The first is a circular incision around the areola. The second is a vertical incision from the areola to the crease in your breast. The third is a horizontal incision in the breast crease.
Lollipop or Keyhole Incision – This is made around the border of the areola and then from the lowest point on the areola down to the breast crease.
There is another option that may be suitable for some women called a "No-Scar" or "Scarless" breast reduction.
This procedure involves a series of small incisions that provide access for a small cannula that removes fat via liposuction. This option is usually for those who have minimal sagging and primarily extra fatty tissue in the breast. Studies have shown positive results with select patients.
Which option is best for you?
The best way to make informed decisions about your breast reduction surgery is to work with a board-certified plastic surgeon who can help guide you through the process. Your body type and the predominant type of excess breast tissue (glandular or fat) will help you and your surgeon determine the most appropriate course of action to achieve your desired outcome. Factors that will influence which surgical technique is right for you include:
The size and composition of your breasts before surgery
Your ideal breast size following the surgery
The desired shape of your breasts post-surgery
They key to getting the breast reduction results that you want is good communication and understanding between you and your plastic surgeon.
How is breast reduction done?
There are two primary types of breast tissue that can be removed: glandular tissue and adipose tissue (fat). Some women have predominantly glandular tissue, while others have predominantly fatty tissue. Glandular tissue must be surgically excised, while fat can be aspirated (removed) using liposuction.
A general overview of the breast reduction surgery procedure is as follows:
Your surgeon will use a surgical marker to identify the incision site(s)
Anesthesia is administered
An incision is made that will allow the surgeon to access the excess breast tissue without disrupting the subareolar parenchyma (the tissue that connects the nipple to the chest wall)
Glandular and/or fat tissue is removed, and the remaining breast tissue is shaped
The still-attached nipple is re-positioned to a higher position on the chest
Excess skin is removed, and loose skin is tightened
The incisions are closed with layered sutures that will support the newly shaped breasts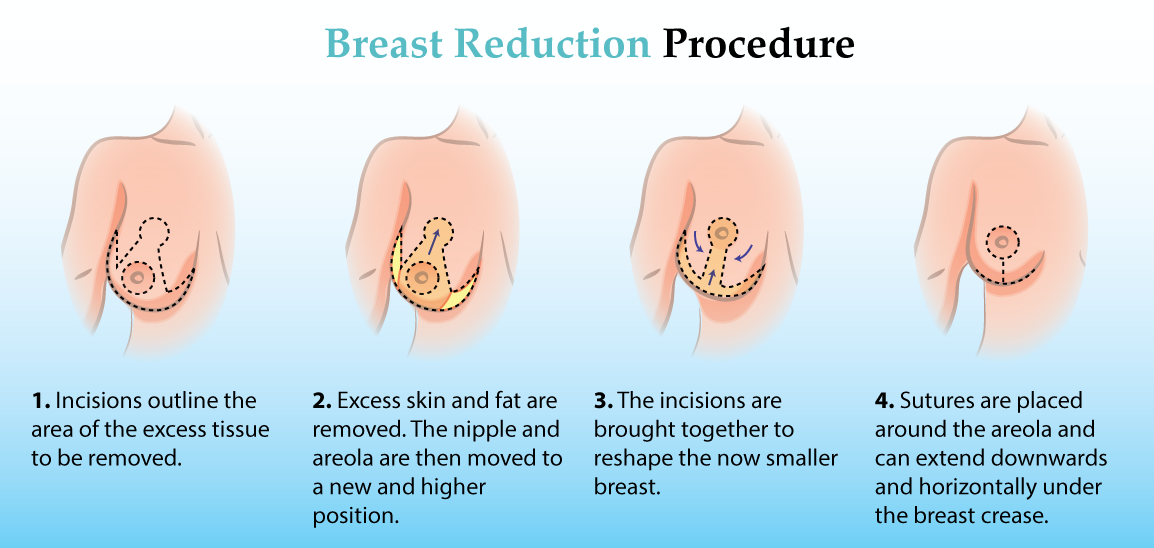 Breast reduction surgery takes anywhere from 2 to 4 hours.
Recovery Time
The overall recovery time associated with breast reduction surgery is typically 3-6 weeks. It is imperative that you carefully follow all instructions provided to you by your surgeon in order to minimize the risk for complications.
Immediately following the surgery you will have surgical dressing on your chest, and you will likely have thin, flexible rubber tubes that will drain any accumulating fluid in the first few days of recovery. The drains will be removed within a few days to a week after the surgery, and sutures are usually removed approximately 7-10 days after surgery.
During the first few days after your surgery, you can expect to feel some pain or discomfort. Your doctor may provide medication that can help manage the pain. Swelling will peak around 3-4 days after your surgery before beginning to subside.
In the first 3-4 weeks after surgery, you will be instructed to avoid strenuous activity and exercise. You will also be instructed to not lift your elbows above shoulder height, and you should not lift more than five pounds.
At 4-6 weeks after surgery, you may gradually begin to increase your activity level. Make sure you discuss exercise and other rigorous activities with your surgeon before you engage in them.
When will you see results?
Approximately 2-3 months after your surgery you will be able to see your results, but subtle changes may continue to occur for up to one year.
If you have any questions or concerns throughout your recovery, make sure to contact your plastic surgeon.
How long will your results last?
Generally speaking, breast reduction surgery results are permanent. Weight gain and pregnancy will lead to increased breast size, and weight fluctuations may also affect their size and shape. As is the case with all women, your breasts will lose tone and elasticity as a consequence of normal aging.
Cost of breast reduction
On average, breast reduction costs between $7,000 and $12,000. Costs associated with breast reduction surgery may include:
Surgeon's fee
Anesthesia fees
Hospital or surgical facility costs
Medical tests
Post-surgery garments
Prescriptions for medication
Many women who consider breast reduction also have other cosmetic procedures done at the same time such liposuction, breast lift and abdominoplasty surgery to enhance the overall results. If additional procedures are performed at the same time, this could also increase your overall cost.
If you're paying out of pocket, ask your plastic surgeon if they offer any financing plans to make the procedure more affordable.
Safety information
The risks associated with breast reduction surgery are typically minimal, but some women may suffer from:
Decrease or loss of sensation in the nipples or breasts
Asymmetrical results (one breast or nipple may appear larger or smaller than the other)
Scarring
Problems with breast-feeding
Allergic reactions to anesthesia, surgical tape, or drugs used during the procedure
Long recovery time
Will insurance cover breast reduction?
Health insurance providers generally consider breast reduction to be cosmetic, and so they are unlikely to cover the cost if there is no documented medical reason (chronic neck or back pain, for example) for having the surgery. Contact your insurance provider to learn what they require in order to cover your surgery. You may also want to contact your doctor to get documentation of medical need for the surgery.
FAQs
Q: How can I minimize scars from breast reduction surgery? A: Around 3 weeks after your surgery you can start applying a silicone scar therapy treatment, which has been shown to improve the appearance of scars over time. Avoiding sun exposure and tanning beds is important to prevent permanent color changes.
Q: Will a breast reduction really help my back and/or neck problems? A: Large breasts are a well-known cause of back and neck pain, and surgical reduction can provide substantial relief.  If you are not sure that your breasts are the source of your back or neck pain, it may be worth making an appointment with an orthopedist or a spine surgeon before undergoing the surgery.
Q: How long after surgery are breasts swollen? A: In most cases, swelling will resolve within a few weeks after the surgery, although minor swelling may persist for several months. If you are concerned that you have abnormal swelling, contact your surgeon immediately.
Q: How long does bruising last after surgery? A: Bruising typically disappears within 2-3 weeks after surgery.
Q: Will chest exercises lift and reduce my breasts? A: If you are overweight, exercise may reduce the size of your breasts. However, chest exercises alone will not lift or reduce breasts.
Q: Can breast tissue grow back after breast reduction surgery? A: While uncommon, breast tissue may grow back after surgery. Growth of breast tissue is often related to hormonal changes (pregnancy, menopause) or weight gain.
How to choose your surgeon
In order to achieve the desired results, it is important that you take the time to choose your surgeon wisely. The surgeon you select, and the recommended surgical approach has an impact on patient satisfaction. Look for a surgeon who has extensive experience specifically with breast reduction surgery. Make sure that your surgeon is board-certified and is a member of one or more of the following organizations:
American Board of Plastic Surgery
American Society of Plastic Surgeons

The Aesthetic Society
Although board-certification and membership in one or more of these organizations does not guarantee a successful outcome, surgeons must meet stringent criteria in order to achieve membership and board-certification. You can be confident that you are working with a highly trained, experienced surgeon who will help minimize risks associated with breast reduction surgery. Find a plastic surgeon near you.