Breast Reduction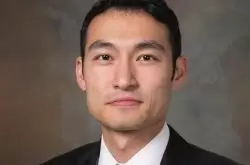 Quick Summary
Breast Reduction
Procedure Length
2-4 hours
Anesthesia
General or local sedation
Risks
Infection, bleeding, asymmetry, nipple sensation, incomplete correction
Recovery
Back to work, 1-2 weeks. Strenuous activities 3-4 weeks
Side Effects
Temporary discomfort, swelling, bruising
Final Appearance
2-3 months
Duration of Results
Long lasting depending on skin elasticity
Average Cost
$7,000-$12,000
Overview
On this page
If you feel your breasts are too large or heavy for the size of your body, you may be a good candidate for breast reduction surgery. For many woman, reducing the size of overly large breasts not only increases their self-confidence but provides relief from physical issues such as shoulder, back and neck pain which oftentimes interfere with normal everyday activities.
The overall goal of breast reduction surgery is to leave the patient with smaller, lighter, and more proportionate breasts. In many cases, a breast reduction will be combined with breast lift surgery to provide a more youthful and perkier look.
Are You a Good Candidate?
You might be a good candidate for breast reduction surgery if you are:
In good overall health with no major medical issues
Well informed about the procedure and what to expect
Emotionally stable
Experiencing back, shoulder or neck pain associated with overly large breasts
Having difficulty finding dresses or tops that fit
Uncomfortable with your appearance because of the size of your breasts
You may NOT be a good candidate if you are:
Unhealthy, or have medical issues making you unfit for the procedure
Pregnant, breastfeeding or plan on having children in the future
Not realistic about the expectations, particularly regarding the expected scars and recovery period.
History of irregular mammograms
Obese
Smoker
To see if you're a candidate, schedule a consultation with a board certified plastic surgeon. They can make the final decision on whether or not breast reduction is right for you.
What Exactly Happens In Breast Reduction Surgery?
Breast reduction surgery takes anywhere from 2 to 4 hours. It's a very detailed type of surgery for the surgeon who is creating your new breast look, and he may spend up to two hours remodeling your new breast.
Here's a step-by-step account of what happens during breast reduction surgery:
Prior to your surgery, your doctor will mark the places for the incisions on you breasts. He or she does this because the breast tissue moves and changes its physical location when you are lying down.
Once in the operating room, you'll receive anesthesia. Most patients are given general anesthesia, but in certain circumstances IV sedation may be used. Discuss the various options with your doctor.
Once you are sufficiently numbed, your surgeon starts the surgery with the incisions.
Your doctor will remove the excess tissue in the breast including skin and fat, and then shift the nipple and its areola to a higher location.
In some women, the areolas are decreased in size during the surgery.
Your breast is then reshaped.
Drains are sometimes inserted into the breasts and then the incisions are closed up.
Your chest is bandaged with a compression bandage on top of gauze.
You are then taken to the recovery room.
Once you wake up and alert, all activities will center on giving you instructions and making preparations for you to leave the facility.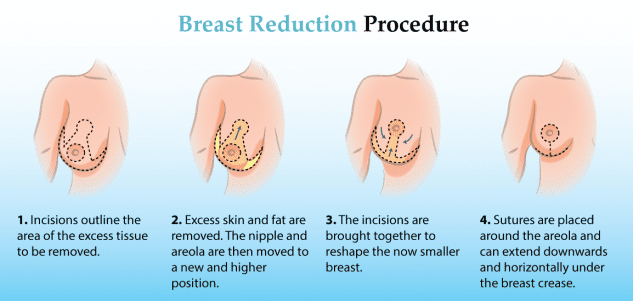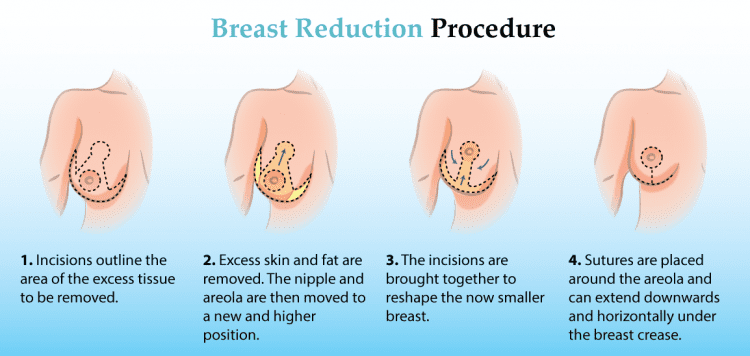 Types Of Incisions
Your surgeon will choose the best type of incision based on breast size, sagginess and how much the nipple will need to be relocated. During breast reduction surgery, your surgeon is able to make your breasts appear more symmetrical. This is a common problem in women.
There are the different types of incisions that may be used:
Anchor Incision – This is a set of three incisions. The first is a circular incision around the areola. The second is a vertical incision from the areola to the crease in your breast. The third is a horizontal incision right in the breast crease.
Lollipop or Keyhole Incision – This is made around the border of the areola and then from the lowest point on the areola down to the breast crease.
Donut Incision – This is only one incision around the areola.
"Scarless" Incision – This is a series of small incisions only for the purpose of a cannula to remove fat via liposuction. This type of incision is only for those who have minimal sagging and have primarily extra fatty tissue in the breast
The incision lines fade over time, and plastic surgeons do whatever they can to minimize your scars.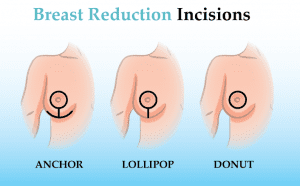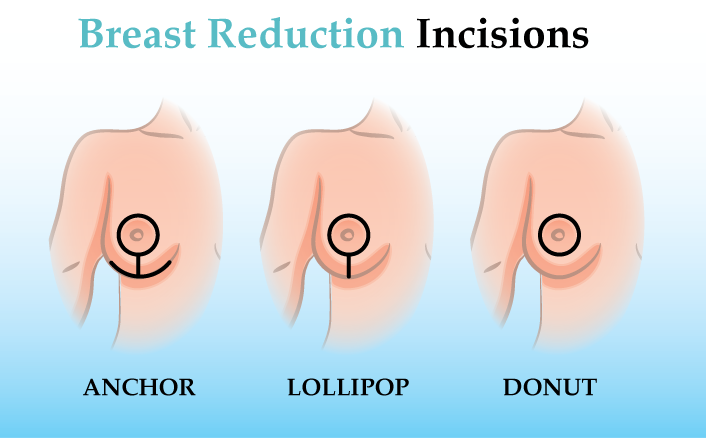 What Choices Can You Make About Your Breast Reduction Surgery?
There are many choices when it comes to breast reduction surgery. Some of these choices include how large your breasts will be after surgery, the shape of your breasts and whether or not liposuction will be performed to help reduce their size.
Fortunately, these are not decisions you'll be making by yourself. Your plastic surgeon will guide you through the process and help you choose the best options based on your desires and body type.
For example, if you have very large breasts, your only choice may be the anchor shape incision. In certain patients, the only reduction that can be made is to detach the nipples and areolas completely from the underlying tissues called a free nipple graft. If this is done, you will lose sensation in your nipples. Thus, you must think carefully about what will happen during the surgery – and whether or not you can live with the results.
Liposuction of the breasts works well for breasts that have a high percentage of fat, but does not help at all for sagging. You can expect about a one-cup size decrease with liposuction.
One advantage of liposuction is that it won't give you scars or loss of nipple sensation. Women who are in their menopausal years are the best candidates for liposuction because the fat content of the breasts increases during these years. Your skin has to have excellent elasticity for liposuction to work well. You also have to have a normally positioned nipple.
They key to getting the breast reduction results that meet your expectations is good communication and understanding between you and your plastic surgeon.
How To Select a Breast Reduction Surgeon
The process of finding a plastic surgeon can sometimes be overwhelming. Here are some simple tips to help you get started:
Use a lot of wisdom. For example, it's better to get a referral from someone who had breast reduction surgery than to look for names randomly in the phone book or on the internet.
It's better to get a referral from a health professional (ie. primary care physician, gynecologist, etc) you know and trust instead of selecting the most popular surgeon who may have a big marketing budget but not necessarily the expertise your looking for.
You can always check the status of any surgeon by calling the state medical board and asking them if the doctor has any "dings" against him. While they're on the phone, ask them who has the best reputation in your city.
You'll want a highly qualified, highly trained and personable surgeon with extra credentials for this type of surgery. The training should specifically be in "plastic surgery."
Look for members of the American Society of Aesthetic Plastic Surgery or American Society of Plastic Surgeons. These logos may be present on their websites.
Most of all, you'll want someone who has performed the operation over a hundred times.
After you narrow down your search to a few different surgeons, it's time for your initial consultation.
What Happens At Your Initial Consultation?
At your initial consultation, you have the chance to check out the doctor to see if he or she meets all your qualifications and whether or not you have easily developed rapport. This is important because breast reduction surgery is very intimate surgery and you must feel as if you can say anything to your doctor.
The doctors you choose for the initial consultation will be simultaneously evaluating you to see if you are a good candidate for the surgery. This will be determined based on your health history, mental stability, expectations of the surgery results, and whether or not your goals are feasible with current surgical techniques.
Part of this process includes photos of your breasts along with measurements. Some of the factors in your suitability for the procedure include:
How large are your breasts now
Shape of your breasts right now
The quality of your breast tissue – mostly fat, fibrous tissue, and firmness
The quality of your skin
Where your nipples and areolas are now compared to where they should ideally be
When you discuss your medical history, these topics will come up:
Present health problems
Past health issues
What medications you are allergic to
What current medications you take
What types of surgeries you had in the past
If you ever had any biopsies of breast tissue and their result
Whether or not you have anyone in your family who has had breast cancer
What your last mammogram results were
If you are planning on having another baby
If you are planning on breastfeeding in the future
At the initial consultation, your plastic surgeon will discuss his or her ideas on how the procedure will be done as well as what type of results you can expect. He or she should have a large book of before and after photos that you can spend time looking at. When looking at these, consider the height, weight and build of the person in the photos and whether it matches yours or not. If it matches your specs, then it's more likely you could have similar results.
The two of you should also talk about these things at your initial consultation:
How to prepare for surgery
What happens and how you feel after surgery
Any risks of the breast reduction surgery
Any potential complications
Anesthesia options
Where the surgery will be performed
The cost of the surgery
Questions to Make Sure You Ask at the Initial Consultation
Be sure to ask these questions so you are well informed about the surgery:
What is your background in plastic surgery?
How many breast reduction surgeries have you performed?
How safe is the procedure?
How available are you after the surgery, in the event that a situation arises which needs immediate attention?
Am I a good candidate for this type of surgery?
How will the scars look?
What will my surgery cost? Does that include all costs?
What should I do to get the best results?
If my breasts don't turn out right, what are my options?
How to Prepare for Breast Reduction Surgery
Here's a timetable you'll follow prior to breast reduction surgery:
Six Weeks before Surgery:
Have a mammogram (if you don't have a current one)
Stop smoking.
Obtain all the preoperative instructions and postoperative instructions from your doctor.
If you need to make any other lifestyle changes such as decreasing alcohol consumption, now is the time to do it.
Two Weeks before Surgery:
Stop the use of any medications, vitamins, minerals, or herbs that could prolong bleeding during the operation.
Consider sleeping on your back all night since you'll have to do this after the surgery. You can sleep on your back in a reclining chair or with pillows that prop you up 25 to 45-degrees.
Stop taking hot saunas and/or using the hot tub.
One Week before Surgery:
Clean out your kitchen and bathroom cabinets, moving items to lower shelves so you won't have to reach for them and move your arms a lot.
Finish all your laundry. It will be difficult to do this after the breast reduction surgery.
Find a few different blouses to wear after surgery especially those that open in the front. It's also a good time to get some new fluffy or soft house slippers.
Schedule helpful friends and family to take care of you.
Arrange other care outside the home for young children so you don't try to lift them, which may lead to
Load the kitchen with healthy foods to help you heal.
Stock up on bottled pure water to drink to stay hydrated.
Make arrangements for a happy friend to drive you to the doctor and bring you home.
Decide who will stay overnight with you for the first few days after the surgery.
Breast Reduction Recovery
The surgery lasts between two and four hours. After the surgery is completed, your surgeon will bandage your chest, most likely using a compression garment. It's likely that drainage tubes may be added to your breasts and they will be removed in a few days.
You'll be in a recovery room immediately following surgery and may have foggy thinking and feel sore when you wake up. The medication you have been given will be good for pain reduction. The staff will make sure you are ready to go home; this usually takes place in a few hours.
When getting ready to leave, a nurse will go over instructions on how to care for the drainage tubes, antibiotic use, and other important information about postsurgical care. For example, you will have to keep the incisions dry. Even topical creams should not be used on the incisions. Sutures, if placed on the outside, are removed after about 10 days.
The nurse will also explain what symptoms are common after surgery and any possible complications.
Symptoms That are Common After Breast Lift Surgery
Pain after the anesthesia wears off that is not diminished with other pain medications (Note: If pain continues for a long time, contact your doctor. Also, if your pain is not controlled with medication, contact your doctor.)
Redness and swelling – this gets better in the first few weeks
Numb nipples
Itching around the incisions
Breasts feel very firm and very full (This is due to inflammation.)
Bruising – This diminishes in the first few weeks.
To reduce swelling, here are four ways you can help the process:
Drink plenty of water.
Avoid high sodium foods because they cause your body to retain water.
Elevate your chest by sleeping with pillows behind your back.
Use ice packs to the chest.
Check to see if you are taking any medications that cause swelling, and ask your doctor for a substitute.
At first, it will be important to move around. Movement helps recovery because it increases your circulation and prevents blood clots. However, avoid any bending, straining, reaching and lifting. These interfere with healing and may cause bleeding. Say no to sexual activity and exercise until your doctor recommends it's a good time.
Typically, it is fine to shower but avoid taking baths with submersion of wounds for 6 weeks after surgery.  Sponge baths may be a good alternative.
After a few days, you will have the surgical drains removed at the doctor's office.
Your incisions will look red or bright pink and after time, they will fade. Your stitches will be removed after a few weeks if they are placed on the outside of skin. During this time, a support bra should be worn to decrease the swelling of your breasts.
Your breasts will need a few months to show off their new improved shape. However, nipple and areola sensation will take several months to return. Full range of motion can be expected in about 1-1/2 to 2-1/2 months.
You may return to work after about a week with your doctor's permission.
Complications to Watch For After Surgery
Any type of surgery has potential complications. Below is a list of complications of any type of surgery:
Negative reaction to anesthesia during the surgery
Infections
Bleeding
Nerve damage
Allergies to medications
Blood clots
Scars
Damage to anatomical structures in the area of the surgery
Hematoma
Your plastic surgeon will give you instructions on how to prevent these complications. If you have a high temperature, it's a sign of an infection. If you monitor your temperature daily, you'll be able to head off an infection in the early stages. Darkening of the skin is another red flag sign and your surgeon should be notified almost immediately. Vomiting, convulsions and loss of consciousness are signs that something needs to be checked medically – quickly.
Will My Results Last Forever?
Your breasts change over time as you age. Gravity starts to take a toll on them, as does weight loss and weight gain. However, your results will remain for the most part if your weight stays the same and you don't get pregnant.
If you have any concerns about your results, contact your plastic surgeon. They may have recommendations on what could be done to prevent sagging that results from gravity over time. There are always solutions.
Cost of Breast Reduction Surgery
On average, breast reduction costs between $6,500 and $12,000. This does not include additional expenses that may be involved such as any medical tests that must be done prior to surgery (e.g mammogram) surgical garments and pain medications. Many women who consider breast reduction also have other cosmetic procedures done at the same time such liposuction, breast lift and abdominoplasty to enhance the overall results. If additional procedures are performed at the same time, this could also increase your overall cost. However, there usually is a discounted rate surgeon's offer for having multiple procedures performed at the same time.
Some additional factors that influence the cost of your surgery will include where you live, the surgeon you choose and the facility where the procedure is being performed. In general, you'll find higher rates in larger cities and lower rates in more rural areas.
Health insurance generally does not cover the cost of breast reduction surgery unless it's being performed for medical reasons such as chronic back, neck or shoulder pain. To see if you qualify, check with your insurance.
If you're paying out of pocket, ask your plastic surgeon if they offer any financing plans to make the procedure more affordable.
FAQs
Q: If I have a breast lift during a breast reduction, do I have to pay for the two separate surgeries?
A: This is an excellent question. A breast lift is a normal part of the breast reduction so it is oftentimes included in the cost.
Q: How much pain should I expect after the surgery?
A: The pain will be mild to moderate. It should not be severe. Generally, Tylenol painkillers handle the pain.  Stronger narcotic medications may be prescribed as needed.
Q: Are there any situations where insurance will cover breast reduction surgery?
A: Yes. If you can show there's a medical necessity for this surgery, you can present your case to your insurance company and they may agree with you.
Q: How long is the recovery period?
A: Usually it's up to about 2 weeks.
Q: I heard that there are some natural supplements such as arnica ointment or bromelain that could possibly speed up healing and decrease inflammation. Can I use them after the surgery?
A: There are different forms of these supplements/ointments that may help. Check with your doctor about their usage after your surgery.
Q: Will I develop anemia after the surgery?
A: You should not develop anemia after the surgery. The amount of blood lost during the surgery is usually less than 500 cc, an amount that won't cause anemia.