Breast Lift (Mastopexy)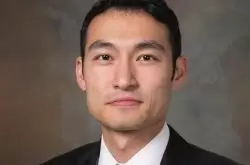 Quick Summary
Breast Lift (Mastopexy)
Procedure Length
2-4 hours
Anesthesia
General or local with sedation
Risks
Infection, asymmetry, incomplete correction
Recovery
Back to work, 3 days. Strenuous activities 3-6 weeks
Side Effects
Temporary discomfort, swelling, bruising
Final Appearance
2-6 months
Duration of Results
Long lasting depending on skin elasticity
Average Cost
$7,500-$12,000
Overview
On this page
Do you want to improve the appearance of droopy or saggy breasts? If yes, breast lift surgery may be an option for you. A breast lift, also known as mastopexy, is a procedure that seeks to perk up sagging breasts, a condition known as 'breast ptosis.'
Each year, thousands of women undergo breast lift procedures to restore the shape and volume of their breasts for a more youthful breast contour. Oftentimes breast lifts are combined with other procedures such as breast augmentation or breast reduction. In cases like these, the breasts are lifted as they are increased or decreased in size. The result are breasts that look and feel better!
BREAST AUGMENTATION + LIFT: 2 procedures combined to achieve this patient's natural-looking bust #PlasticSurgery pic.twitter.com/eJfUDCtGYN

— Dr Andrew Broadhurst (@Enhanceps) January 13, 2016
What Causes Saggy Breasts?
During the course of a woman's life, the breasts change in appearance and oftentimes sag. Don't worry, this a common condition. In fact, the clinical term for female breasts that sag is called 'breast ptosis.' There are many causes of breast ptosis including pregnancy, cigarette smoking, high body mass, genetics, gravity and the natural aging process. There are also different degrees of ptosis as shown in the illustration below. Fortunately, breast ptosis can be treated with breast lift surgery.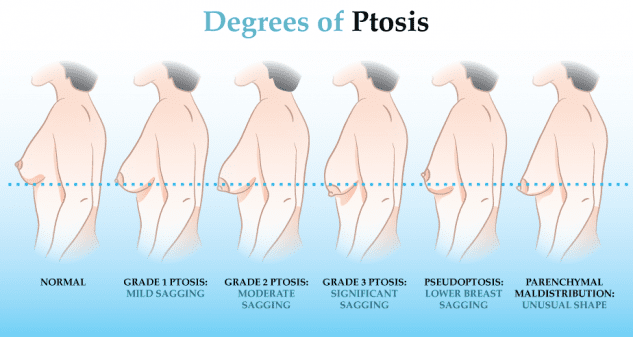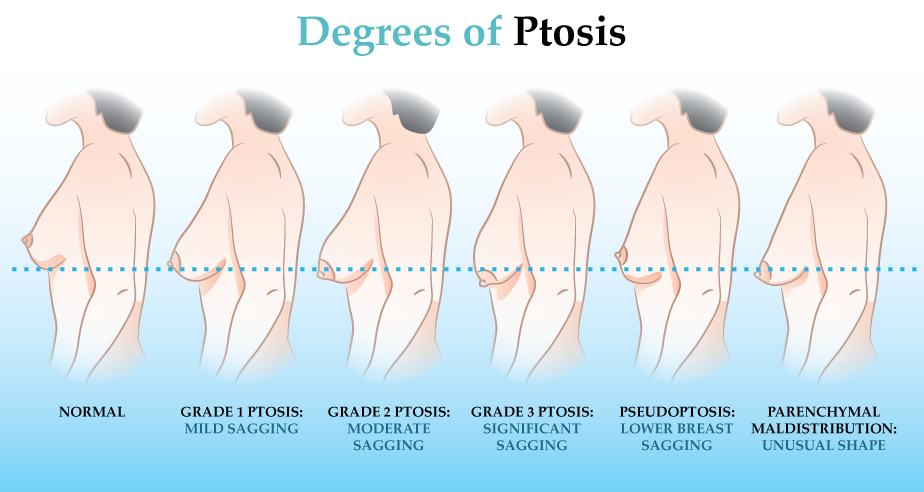 In addition to a breast lift, many women also consider having other procedures performed at the same time to enhance the overall result. For example, a "mommy makeover" is a combination of different surgical procedures reserved for women who have been pregnant and want to look like they did before the pregnancy. This may include a tummy tuck, liposuction surgery and breast enlargement or breast reduction. There is also a cost savings of having multiple procedures done at the same time.
Are You a Candidate?
A good candidate for breast lift surgery is typically:
In good overall health and at or near their goal weight.
Must be over 18 yrs old. Because breasts may continue growing up until the age of 18, so breast lifts are not recommended for girls under 18 yrs old.
Has no major medical issues.
Well informed about how the procedure is performed and potential risks.
Has nipples and areolas that point downward.
Understand the potential effects on breastfeeding.
Has breasts that are sagging
As a general rule of thumb to determine if you could benefit from a breast lift, place a pen in the crease underneath your breast, if the sagging tissue holds the pen in place without the use of your hands, you could likely benefit from a breast lift.
You may NOT be a good candidate if you are:
Unhealthy, or have medical problems making you unfit for surgery
You are pregnant, breastfeeding or planning on childbearing in the future.
Not realistic about what to expect. It's good to dream, but if you are imagining all types of unrealistic visions of how this will dramatically change your life, you may not be an ideal candidate.
Emotionally unstable.
Do Breast Lifts Give Long-Lasting Results?
To answer this question, you have to consider how breasts change over time. Weight gain adds a lot of excess tissue to the breasts; with the added weight, it's possible that there will be sagging – whether or not there already has been a breast lift surgical procedure done. If you lose weight, the resulting skin without volume will also sag. Thus, to predict how long-lasting your results will be, you have to predict whether you will have additional weight gain – and weight loss in the future.
Pregnancy also makes a big impact on breast tissue. If there is still a greater chance you will become pregnant over the next several years, your breasts will change and the results of the breast lift procedure will be changed.
Breasts also change over time because of the effects of gravity. Thus, over time, your results will start to diminish due to aging.
What Exactly Happens During the Procedure?
On average, breast lift procedures take one to three hours to perform and require general anesthesia. Sometimes the procedure can take longer if breast implants are inserted.
There are various approaches to breast lifts, during a consultation your plastic surgeon will recommend the best approach based on your preferences, body shape and degree of ptosis.
Common steps taken During the Procedure:
First you are given anesthesia so you don't feel any pain or discomfort during the procedure.
Next, the surgeon makes one of the following incision patterns which is typically determined by the degree of sagging, the amount of excess skin present, and the overall size of the breasts.

Anchor Incision: also known as inverted T, ideal candidates are women with extremely droopy breasts.
Lollipop Lift: most appropriate for women with moderate degree of breast ptosis.
Donut Lift: also known as periareolar or Benelli lift, this incision is suitable for mild to moderate sagging.
Crescent Lift: appropriate for women with a small degree of ptosis.

After making the incision, excess skin of the breast tissue is removed.
The nipple and areola are moved to a higher position.
If breast implants are being used, they will be inserted through any of the patterns mentioned above.
Then the skin surrounding the areola is brought down and together to reshape the breast.
Finally, all incisions are closed with sutures, often strategically placed under the breast so they are not noticeable.
After your breast lift procedure, the shape of your breasts, the height of their projection and their balance/symmetry will be greatly improved.
After your breast lift procedure, the shape of your breasts, the height of their projection and their balance/symmetry will be greatly improved.
Types of Incisions
There are several types of incisions that are possible. All incisions are made according to the contour of the breast so that scarring is hidden and minimal. Here are the different types of incisions:
Anchor Incision – this includes an incision around the areola, another along the breast crease horizontally and one that connects both of these. This used if there is an extreme degree of sagging. It's the preferred method if there is also a breast reduction done simultaneously.  The downside of this procedure is that it involves the most invasiveness.
Lollipop Lift – This one is for those who have moderate sagging. The incision is done around the areola and vertically down to the crease in the breast, simulating somewhat a keyhole.
Donut Lift – This incision is for those who have moderate or mild sagging. The downside of this procedure is that the areola may widen over time.
Crescent Lift – This incision is only on the upper half of the areola. The procedure is appropriate for those with a small degree of sagging.
The Scarless Lift – This is a procedure that lifts the breast but doesn't address sagging. It is tiny incisions where an endoscope is inserted to see the area.
Incisions will fade over time and improve. Your goal during the recovery period is to keep the incisions free from infections. Infections can worsen scarring.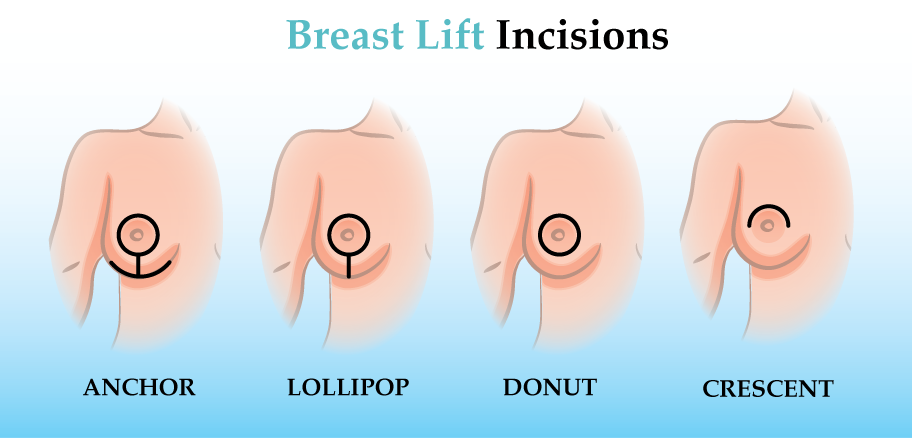 Selecting Your Plastic Surgeon
How to Choose a Breast Lift Surgeon
Your decision to select a surgeon should always be based on:
Your intuition and first impression of the surgeon.
The surgeon's training and all his or hers certifications. Check to see if they are members of the American Board of Plastic Surgery, American Society for Aesthetic Plastic Surgery or the
American Society of Plastic Surgeons. These are some of the top organizations that oversee plastic surgeons.
The surgeon's previous experience. Have they performed a lot of breast lifts?  Does he have further specialized training in aesthetic surgery?
The surgeon's desire to match your needs with his skill.
The fact that your surgeon has hospital privileges at the hospital where the surgery will be performed.
Recommendations from friends, family members or trusted physicians such as your general practitioner or gynecologist.
The communication and comfort level you develop with the surgeon.
Who will be available for you during the recovery time and additional visits?
The cost, that is affordable to you.
Keep all these in mind when selecting a plastic surgeon. It is very helpful to rate the different surgeons you consult with on a scale of 1-10 for each of the items listed above, and then make a decision based on the surgeon with the highest score.
What to Expect During Your Initial Consultation
Remember that your initial consultation doesn't mean that you have to choose the surgeon. You can continue to look for other surgeons to interview. Think of the initial consultation as an interview. You are interviewing the surgeon to make sure he or she fits your criteria and they are interviewing you as well.
At the initial consultation, the plastic surgeon will photograph and measure your breasts to start the creative process of how the surgery could possibly be done.
Some of the things they will be evaluating include your breast size and shape compared to what type of results you are looking for, how firm your breast tissue is, where your nipples are in space, and what type of skin quality you have.
During the consultation, your complete medical history will be discussed. This includes the following topics:
Have you had a recent mammogram?
Do you have a family history of breast cancer?
Have you had any biopsies of the breast?
Are you allergic to anything?
What types of medications are you currently taking?
What types of medical treatments or cosmetic procedures have you received in the past?
Your weight history and your weight goals.
Any current or past medical issues?
Your pregnancy history and your future pregnancy goals
Questions to Ask Your Doctor
During the consultation, your plastic surgeon will discuss with you whether or not a breast lift is enough to meet your cosmetic goals. They will also detail the surgical procedures that will be used. It's important to listen and ask questions during the consultation. Some questions you may ask are:
Am I a good candidate for this procedure?
How should i I prepare for surgery?
What type of anesthesia will be used?
Could you explain where you envision my scars will be and how long they will be visible?
Where will the surgery be performed?
How long will the surgery take?
What medications will I take for pain control?
How long should I take off from work?
When can I go back to my normal daily activities?
What are the potential risks or complications?
May I see your breast lift before and after photos?
What is the cost breakdown for the surgery? Will there be additional costs?
What happens – cost-wise – if there are complications?
If additional surgeries are needed, how much will they cost?
Preparing for Breast Lift Surgery
Six Weeks Before Surgery:
Two Weeks Before Surgery:
Stop alcohol consumption.
Stop using any medications, vitamins, minerals, or herbs that could increase bleeding.
Get used to sleeping on your back at night, either in a reclining chair or with pillows that give you a 25 to 45-degree angle. This will be necessary for the first few days after surgery.
One Week Before Surgery:
Rearrange kitchen foods in the cabinets so that you can reach them easily without moving your arms much.
Get all laundry done, as this will be difficult after the surgery.
Lay out the clothes you can wear after surgery such as blouses that open in the front and cushy house slippers.
Make arrangements for friends and family to take care of you.
Arrange care support for young children, as you may not be able to lift them after surgery.
Check the refrigerator, making sure you have plenty of healthy foods to help you heal.
Insure you have enough pure water in the house to drink to stay hydrated.
Arrange who will drive you to the doctor and pick you up after the outpatient surgery.
Make arrangements for someone to stay overnight with you in case you need special care.
Breast Lift Recovery Time
After the surgery is completed, your surgeon will wrap a gauze bandage around your chest. This is a compression garment. It's possible that drainage tubes may be added to your breasts for a temporary period of time.
You'll be in a recovery room immediately after surgery. When getting ready to leave, a nurse will go over instructions on how to care for the drainage tubes, antibiotic use, and other important information about post-surgical care. She will also discuss symptoms that are commonly felt after surgery as well as the types of complications that could result.
Common Symptoms after Surgery
Pain after the anesthesia wears off (Note: If pain continues for a long time, contact your doctor. Also, if your pain is rated an 8-10 on the 0-10 pain scale, contact your doctor.
Redness and swelling that diminish in the first few weeks
Changes in how your nipples feel
Bruising that diminishes in the first few weeks
Here are 4 simple tips to help reduce swelling:
Drink plenty of water.
Avoid high sodium foods that will cause your body to retain water.
Elevate your chest by sleeping with pillows behind your back.
Check to see if you are taking any medications that cause swelling, and ask your doctor for a substitute.
At first, it will be important to move around but bending, straining, reaching and lifting should be avoided because they interfere with your healing and may cause bleeding. Refrain from sexual activity and exercise until your doctor recommends that it's time to do so.
After a few days, you will have the surgical drains removed at the doctor's office.
Your incisions will look red or bright pink and after time, they will fade.
During this time, a support bra should be worn to decrease the swelling of your breasts.
Your breasts will need a few months to show off their new improved shape. However, nipple and areola sensation will take several months to return.
You may return to work after about a week with your doctor's permission.
Complications to Watch For After Surgery
Any type of surgery has potential complications. Below is a list of complications that could result after surgery:
Negative reaction to anesthesia during the surgery
Infections
Bleeding
Nerve damage
Allergies to medications
Blood clots
Scars
Damage to anatomical structures in the area of the surgery
Hematoma
Your plastic surgeon will give you instructions on how to prevent these complications. If you have a high temperature, it's a sign of an infection. Darkening of the skin, vomiting, convulsions and loss of consciousness are signs that something needs to be checked medically quickly.
What Alternatives Are There to Breast Lift Surgery?
If you want a better cosmetic look to your breasts but the idea of getting a breast lift is concerning you, there are alternatives.
For example, if you don't want implants, it's possible to use your own breast tissue to reshape your breasts during surgery. In this procedure, which is called Breast Auto Augmentation, the excess skin is removed and sagging is corrected.
Here are some additional options, although efficacy and long term results are not yet available:
A Vampire Breast Lift™: This one is one of the newest alternative methods. It does not require surgery. Instead a platelet-based injectable is created that is made out of your own blood. The injection is given into areas of the breast where lifting and firming are needed.
An "Internal" Bra: This is one of the most interesting procedures, as it is a mesh type of bra that is inserted surgically to lift your breasts. The mesh bra provides a little extra structure although over time the mesh is broken down and absorbed by your own tissues.
A Bra Lift with Laser (Laser Bra Lift): Some doctors will want to use a laser bra lift as an insurance policy that your breasts won't sag. It's actually not really an alternative to breast lift surgery as it is an extra procedure. In the laser bra surgery, the laser is used to create a bra-like effect that protects the surgical results of the breast lift. Laser energy will always stimulate the production of new collagen fibers, which give you more support of any tissues. Always look at the before and after pictures to see whether or not you think there is enough improvement.
Botox Breast Lift: There are more and more uses of Botox that researchers are finding as time goes on. A Botox Breast Lift is not an approved use of Botox by the FDA. Here's how it works: Botox is injected into your pectoralis muscle. This causes a relaxation of the muscles in the chest and your back muscles then begin to lift your breast. The lifting is not dramatic though and it only lasts about three to four months. The advantage, however, is that there are no scars because surgery was not done. There's also no recovery time as there is with a breast lift surgery.
Thermage: Thermage is a procedure that tightens the skin via the use of radio waves. The tightening firms the skin and lessens some of the sagging. It's another nonsurgical procedure.
Chest Exercises: Your breast is made of the pectoralis major and minor muscles. Thus, strengthening these muscles is a way to firm breast tissue. It may not help if there's a lot of sagging, but the small improvement may be enough for you.
Breast Creams: A breast cream has to stimulate collagen production on a big scale in order to make a big difference when your breasts are sagging remarkably. Many of these creams promise the moon but don't offer much in the way of results.
A Well Fitted Bra: You may be amazed at how a well-fitted bra will help your breasts look better. Without support, the tissues are not supported and the connective tissue can begin to get weak, thus contributing to sagging.
Breast Lift Cost
The total cost of breast lift surgery ranges between $7,500 and $10,000.
This cost may not include fees for surgical garments, pain medications, and any other miscellaneous recovery expenses.
If your doctor recommends breast reduction or breast augmentation, these are additional costs. Average cost of breast reduction is $6,500 to $12,000 while the average cost of surgery for breast augmentation is $5,000 to $10,000. In many cases, if you're combining procedures there will be a discounted rate. Remember that the more experienced the plastic surgeon, the more expensive the surgery could be. However, you are investing in yourself by choosing an experienced surgeon.
Health insurance does not generally cover these costs. However, many surgeons do offer monthly payment plans that can fit into your budget.
FAQs
Q: Will I be able to breastfeed after breast lift surgery?
A: It's possible if the nipple was left intact during the surgery, and was still connected to all the anatomical structures underneath the nipple. However, no plastic surgeon can guarantee that breastfeeding will still be possible after the breast lift surgery. Keep this in mind before proceeding with surgery.
Q: Is it possible to have breasts that look alike after a breast lift with implants?
A: Yes. No two breasts are the same, but the breasts will more closely approximate each other with the breast lift surgery.
Q: Could I just get breast implants and forget about the breast lift?
A: The answer depends on the amount of sagging you have. When there's sagging, the breast tissues will begin to stretch – and the stretch is not relieved by the implants alone in many cases, even when there is sagging that could be rated mild.
Q: How long is the surgical bra worn after the surgery?
A: You will wear your surgical bra for up to three months after the surgery. It's important to do this because the surgical bra will help reduce swelling and support the tissues while they heal. It is not a good idea to wear underwire bras because they don't support the breast adequately and may disrupt healing from the metal in the wire.
Q: Will I be able to breastfeed after breast lift surgery?
A: In general, no plastic surgeon can guarantee that breastfeeding will still be possible after the breast lift surgery. But in most cases, you should be able to breastfeed after a breast lift if the nipple was left intact during the procedure, and was still connected to all the anatomical structures underneath the nipple. However, if you are planning to become pregnant, it is recommended that you wait until after your pregnancy to have a breast lift. Reason being, as your breasts enlarge during pregnancy the skin will stretch. Depending on the elasticity of your skin before pregnancy and the degree to which your breasts enlarge during pregnancy, your breast skin may permanently stretch. In this case the results of breast lift surgery performed before pregnancy would be lost.
Q: How much sensitivity can I expect to lose in my nipples?
A: It's difficult to answer "how much" sensitivity you can expect to lose after breast lift surgery but most patients report that they are able to retain complete or near complete sensation. During the initial postoperative period, there may be a temporary loss or decrease in sensation primarily due to swelling. As the swelling subsides, the sensation will return. There is the potential that you may experience a change in the sensitivity of your nipples and the skin of your breast. On occasion, patients have reported that their nipples are "supersensitive." In this case desensitization, exercises can be performed to diminish the sensitivity. This involves gently rubbing the nipples with cotton ball and then progressing to a more course material.
Q: How long is recovery time?
A: Depending upon the extent of your procedure, you could be back at work after about a week with your doctor's permission. However, if several procedures were performed during the surgery, it's a good idea to give yourself a few weeks before returning to work.
Q: How much skin is removed during the breast lift surgery?
A: The volume varies depending on how much sagging there is. On average in terms of volume, about 2 to 3 tablespoons per breast. If implants are not placed, you may expect to lose up to half a cup size with breast lift alone.