Procedure Length
1-3 hours (depending upon extent of procedure)
Risks
Pain, bleeding, infection, fluid collection, wound healing, blood clots
Tummy Tuck Recovery
Back to work 2-3 weeks. Strenuous activities 6-8 weeks
Side Effects
Temporary discomfort, swelling, bruising
Final Appearance
On average 6 to 12 months depending on extent of procedure
Duration of Results
Permanent unless
significant weight gain 
Tummy Tuck Cost
The average cost of a tummy tuck is between $8,000 and $15,000.
Overview
What is a tummy tuck?
A tummy tuck, also known as abdominoplasty, is a popular choice following pregnancy or weight loss. The overall goal of a tummy tuck is twofold: First is to remove excess abdominal skin and fat, and second is to repair stretched abdominal muscles by tightening them together. The result is an improved waistline and a flatter, more toned stomach.
Tummy tuck vs. liposuction
Although both liposuction and tummy tuck surgeries can enhance the contour of your waistline, they are very different operations.
Liposuction is used to decrease localized pockets of excess fat, but cannot address excess skin or stretched muscles
Tummy tucks are used to remove excess abdominal skin and tighten the underlying abdominal muscle wall.
Are you a good candidate?
Men and women can both be candidates for a tummy tuck. People who have lost significant amounts of weight often have loose, sagging skin and stubborn pockets of fat that do not respond to diet or exercise.
Tummy tucks are very popular among women who have recently gone through childbirth, since pregnancy can radically alter the physical appearance of the abdominal region. Tummy tuck surgery will tighten the abdominal muscles, which are generally loosened during pregnancy.
You may be a good candidate for a tummy tuck procedure if you are:
In good overall health.
At a stable weight and less than 30 pounds over your ideal weight.
Have extra abdominal skin, abdominal muscle weakness, or both.
Do not plan on becoming pregnant.
Properly informed about the procedure and what to expect.
A non-smoker
What you should know beforehand
A tummy tuck is not an effective weight loss treatment.
The surgery will leave a small scar. Although a good surgeon can minimize scarring, you will have a small scar in the bikini area.
Another pregnancy can affect your tummy tuck. It is best to wait until you've finished having children before undergoing this procedure or a full mommy makeover.
Weight gain may negatively affect your surgery results. Substantial weight gain after a tummy tuck can cause skin stretching and reduced muscle firmness.
Types of tummy tucks
There are several types of tummy tuck procedures which to address the amount and location of access skin that needs to be removed. Your surgeon will choose the best option based on your unique cosmetic goals and desired outcome. The following are some of the different types of tummy tuck incisions that can be used during the procedure.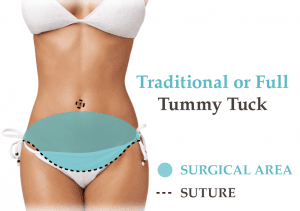 Traditional or full tummy tuck: Traditional tummy tuck surgery is ideal for removing excess skin and fat from the entire abdominal region below the naval. The incision is made from hipbone to hipbone and around the belly button. There will be a scar around the belly button, however your surgeon will likely make the incision on the inner edge to make it more discreet. The horizontal scar can usually be hidden by undergarments or bathing suits.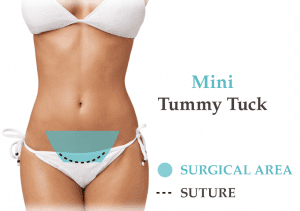 Mini tummy tuck: A mini tummy tuck is effective for getting rid of excessive fat in the lower central abdominal area. The small incision allows the surgeon to address excess skin in the lower abdominal area and the muscles of the lower abdominal wall. Compared to a traditional tummy tuck, the incision line is shorter, and the scar is similar to that of a C-section.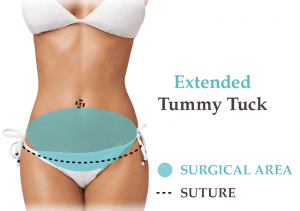 Extended tummy tuck: The extended technique is most effective for getting rid of the overall fat on your abdomen, flanks and back areas ("love handles"). Although it leaves a longer scar, a skilled surgeon will make sure that it can be hidden by most undergarments or bathing suits.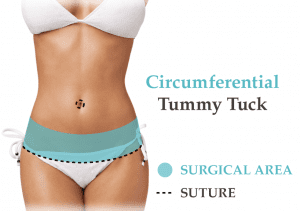 Circumferential tummy tuck: This method addresses everything the extended method does and more. It involves a surgical incision that extends completely around the waistline into the lower back and buttocks. Oftentimes, this approach is used for patients following massive weight loss or bariatric surgery.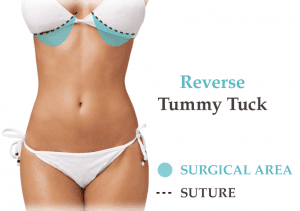 Reverse tummy tuck: This method involves removing excess abdominal skin from the upper abdominal area. An ideal candidate for a reverse tummy tuck has a tight lower abdomen but excessive skin in the upper abdomen. An incision is made below the breasts, giving the surgeon access to the upper abdominal wall and allowing them to remove excess skin. In most cases, scars are hidden within the breast crease. This technique can be combined with other breast procedures, such as a breast augmentation using the same incision, for optimal results.
Procedure details
The following is a general overview of how a tummy tuck procedure is performed:
The patient is anesthetized
A horizontal incision is made in the lower abdomen, giving the surgeon access to the underlying abdominal muscles. Depending on the type of tummy tuck, the incision may be only a few inches or may extend beyond the hipbones. A second incision may be made to free the navel from surrounding tissue. The navel is not removed with a mini tummy tuck or a reverse tummy tuck.
Working through the incision, the surgeon separates the skin from the abdominal wall all the way up to your ribs. The skin is lifted to reveal the vertical abdominal muscles.
The surgeon pulls the abdominal muscles close together and stitches them in their new position. This provides a firmer abdominal wall and narrows the waistline.
The surgeon stretches the skin over the new underlying muscle structure, removing any excess skin.
A new hole is cut for the navel, which is then stitched in place.
Finally the skin flap is stretched back into place, drainage tubes are inserted, and bandages are applied. The type of surgical dressings and compression garment you will have depend on the type of procedure performed.
After surgery, the patient will be taken to the recovery room.
Before being discharged, a nurse or the surgeon will go over the post-operation instructions with the patient or caregiver.
Tummy tuck surgery may be performed in a hospital, an ambulatory facility or a doctor's office that has a specific suite for surgeries. Depending on the type of tummy tuck, the operation may take anywhere from 1 to 3 hours.
Recovery time
Each person who undergoes tummy tuck surgery will have a unique recovery experience. There are a number of factors that can influence recovery time, including:
Age
General health
Type and extent of tummy tuck
Whether additional surgical procedures were performed
Post-surgery care
Immediately following your surgery, your abdomen will be covered with surgical dressing. Before you are released from the recovery suite, you will be instructed on how to care for your surgical site.
In many cases, one or more thin, flexible rubber tubes will be temporarily placed under the skin to allow accumulating fluid to drain out of the abdominal cavity. Before you are released from the recovery suite, you will be shown how to take care of and empty the drains. Surgical drains are typically removed within a few days after the surgery.
An antibiotic and an anticoagulant may be prescribed for you while you have the drain in place. Many people experience pain and discomfort in the first weeks after the surgery. This is normal and will subside as you heal. Your surgeon may provide you with medications that can help you manage the pain.
The redness, bruising, and swelling that is present after the surgery will subside in the weeks after the surgery, but minor swelling will likely persist for several months. Similarly, the incision scar will fade as time goes on.
In the 6 weeks after the surgery, you will wear an abdominal binder that will help minimize fluid accumulation and provide you with abdominal support. It is important to wear this for as long as your doctor specifies in order to achieve the desired long-term results.
Most tummy tuck patients take 2-3 weeks off of work, and strenuous activity must be avoided for 6-8 weeks after your surgery.
Tummy tuck scars
The best way to minimize scarring following a tummy tuck is to work with an experienced surgeon who understands how to minimize scar visibility.
For example, if you had a cesarean section, a skilled surgeon will be able to incorporate the new scar into the existing scar tissue. In addition, it is important that you carefully follow post-surgery instructions throughout your recovery period.
Subjecting the site of your incision to excessive abrasion, motion, or force during recovery may increase the likelihood that your scar will be noticeable. Many people become restless during recovery and may want to exercise, but this can result in damage to the incision site, increase the risk for complications, and increase the likelihood that substantial scar tissue will develop.
Return to your normal activity level gradually and under the guidance of your doctor. Your tummy tuck scar will begin to fade in the months following the surgery. In most cases, the scar will have faded as much as it is going to within one year after the surgery.
If you have concerns about scarring, make sure to discuss them with your surgeon before you undergo surgery.
When will you see results?
Although preliminary results are immediately visible after your tummy tuck, it will take 6-12 months to achieve final, stable results. It is important to follow your surgeon's instructions for post-operative care to minimize healing time.
How long will your results last?
Results of a tummy tuck are permanent as long as a healthy weight is maintained. However, significant fluctuations in your weight will negatively affect the abdominal contouring that the tummy tuck provided.
Cost of tummy tuck surgery
The average cost of tummy tuck surgery is between $8,000 and $15,000.
There are many variables that affect the cost of tummy tuck surgery, including:
Surgeon's fee
The type of tummy tuck procedure
Additional surgical procedure fees (e.g. liposuction)
Anesthesia fees
Hospital or surgical facility costs
Medical tests
Post-surgery garments
Prescriptions for medication
Tummy tucks are considered an elective cosmetic surgery and so will not be covered by insurance. In rare cases, insurance may cover a surgery called a panniculectomy, which removes excess skin in the lower stomach but does not address weakness in the abdominal wall.
To make surgery more affordable, most plastic surgeons offer options for financing cosmetic surgery. Ask your surgeon about monthly payment plans or other financing options during your initial consultation.
Safety information
Every surgical procedure is accompanied by risks for serious complications, including tummy tucks. These are some potential complications that can occur:
Infection
Poor wound healing
Skin loss or looseness
Fluid accumulation
Numbness or decreased sensation
Skin discoloration
Most post-operation complications, including infections, are the result of improper care or self-care of the patient during recovery. There are two key steps you can take to minimize risks of complications during and after your surgery: First, work with an experienced and highly skilled surgeon; second, carefully follow all aftercare instructions.
Choose your surgeon wisely
Even though it is an outpatient procedure, a tummy tuck is a major surgery that requires a skilled surgeon who has received extensive training. It is very important to research the credentials of all surgeons you consider for your procedure. Look for a surgeon who is board-certified and has current membership in one or more of the following organizations:
American Board of Plastic Surgery (ABPS)
American Society for Aesthetic Plastic Surgery (ASAPS)
American Society of Plastic Surgeons (ASPS)
While board-certification and membership in any of these societies does not guarantee a successful outcome, you can be confident that any surgeon who holds membership in one or more of these groups has undergone extensive surgical training and has consistently demonstrated excellent results.
Don't be afraid to ask any surgeon who you interview about their experience doing the specific type of tummy tuck that you are interested in. Skilled surgeons will often provide you with before-and-after pictures of surgeries that they have performed.
FAQs
Q: Does a tummy tuck remove stretch marks? A: It depends. If the stretch marks are within the area of skin being removed, they usually can be addressed. If you are concerned about stretch marks, make sure to discuss your options during your initial surgical consultation.
Q: How long does tummy tuck surgery swelling last? A: Abdominal swelling after a tummy tuck surgery is very common and may persist for several months. In most cases, the majority of the swelling will resolve within 3 months of your surgery, but minor swelling may be present for up to a year.
Q: Can I tighten my loose abdominal skin without surgery? A: In some cases, loose abdominal skin may tighten without surgery, especially in younger people who have elastic skin. Non-surgical alternatives (radiofrequency, for example) may provide some benefit. However, significant loose or sagging skin will likely require surgery.
Q: Is there an age limit for a tummy tuck? A: Adults of any age can get a tummy tuck, but if you plan on losing a lot of weight or becoming pregnant in the future it is best to wait until your weight is stable and you are near your goal weight.
Q: How much weight can I lose from a tummy tuck procedure? A: A tummy tuck is not intended to be a weight loss surgery. While patients do report losing some weight from a tummy tuck (2 to 5 pounds), the goal of a tummy tuck is to remove excess abdominal skin and tighten the muscles of the abdominal wall rather than lose weight. Patients who have a significant amount of weight to lose should consult with a surgeon who is experienced with bariatric surgery and other weight loss methods.
Q: How can I get my insurance to cover a tummy tuck? A: Insurance companies consider tummy tucks to be an elective cosmetic surgery, thus they will not cover it. However, a similar surgery known as a panniculectomy may be covered by insurance. A panniculectomy involves surgical removal of excess abdominal skin but does not include tightening of the abdominal wall. If your insurance company will cover a panniculectomy, the overall cost of a tummy tuck can be reduced.