Procedure Length
1-3 hours (depending upon extent of procedure)
Purpose
Tighten muscles, or to remove fat and extra loose skin from the abdomen
Tummy Tuck Recovery
Back to work 2-3 weeks. Strenuous activities 6-8 weeks
Type of Specialist
Plastic Surgeon
Final Appearance
On average 3 to 6 months depending on extent of procedure
Duration of Results
Permanent unless
significant weight gain 
Tummy Tuck Cost
The average cost of a tummy tuck is between $4,500 and $20,000.
Overview
What is a tummy tuck?
A tummy tuck, also known as abdominoplasty, is a popular choice following pregnancy or weight loss. The overall goal of a tummy tuck is twofold: First is to remove excess abdominal skin and fat, and second is to repair stretched abdominal muscles by tightening them together. The result is an improved waistline and a flatter, more toned stomach.
Cost of tummy tuck surgery
The total cost of tummy tuck surgery can range from $4,500 to $20,000. The following provides an general overview of the costs for different types of tummy tuck procedures:
Mini Tummy Tuck Focuses on the lower abdomen and is less extensive than a full tummy tuck. The average cost typically ranges from $4,500 to $8,000.
Standard Tummy Tuck: Also known as a full tummy tuck, this procedure addresses both the upper and lower abdomen, including muscle repair. The average cost typically ranges from $6,000 to $12,000.
Extended Tummy Tuck: This type of tummy tuck is performed on patients who require significant skin and fat removal, usually due to massive weight loss. It involves an extended incision that may extend beyond the abdomen to the hips or lower back. The average cost typically ranges from $8,000 to $16,000.
Circumferential Tummy Tuck: This extensive procedure treats the abdomen, hips, buttocks, and sometimes the lower back. It is commonly performed on patients with a large amount of excess skin after significant weight loss. The average cost typically ranges from $10,000 to $20,000 or more.
Factors affecting the cost of treatment
There are several factors that can affect the cost of your tummy tuck procedure. Here are some of the top factors that influence cost.
Surgeon's Fee: The experience and reputation of the surgeon performing your tummy tuck procedure can affect the cost. Highly skilled and well-known surgeons often charge a premium for their services. The average surgeons fee is $6,154 according to the American Society of Plastic Surgeons (ASPS). When choosing a surgeon, look for one certified by the American Board of Plastic Surgery (ABPS) with extensive training in tummy tuck procedures. Although board-certification and memberships in any organization does not guarantee a successful outcome, ABPS surgeons must meet stringent criteria in order to achieve membership and board-certification. By choosing a ABPS member, you can be confident that you are working with a highly trained, and experienced plastic surgeon who will help minimize risks associated with tummy tuck surgery.
Anesthesia Fees: The administration of anesthesia involves the expertise of an anesthesiologist. The type of anesthesia used, the duration of the procedure, and the qualifications of the anesthesia provider influence the anesthesia fees. General anesthesia is typically more expensive than local anesthesia with sedation.
Surgical Facility: The surgical facility where your tummy tuck is being performed may impact the cost. These fees cover the usage of the operating room and other associated services. To ensure a safe experience, check to see if your surgical facility is certified by the Accreditation Associations for Ambulatory Health Care (AAAHC).
Location Matters: The cost of living and the average pricing for medical services in a particular area can affect the cost of your procedure. In general, urban areas tend to have higher procedure fees. If you want to get a rough idea of the prices for medical procedures in your local area, you can use the Healthcare Blue Book, which functions similarly to Kelley Blue Book for estimating car prices.
Type of Tummy Tuck: The type of tummy tuck will impact cost. Full tummy tucks are typically more expensive then mini tummy tucks
Pre and Postoperative Care: The care provided before and after affects the overall cost. This includes preoperative consultations, medical tests, surgical garments, prescription medications, and follow-up appointments.
Additional Procedures: You may incur extra costs if you're considering having other procedures alongside your tummy tuck such as liposuction or thigh lift surgery.
Insurance Coverage: In certain cases, your tummy tuck may be covered by insurance if it is deemed medically necessary. In these instances, insurance providers may cover a portion of the procedure. However, insurance coverage can vary, and specific criteria must be met to qualify for coverage.
If you are considering tummy tuck surgery, setup a consultation with a board-certified plastic surgeon near you. This will allow you to discuss your aesthetic goals and obtain a better understanding of the specific costs involved.
Is the cost covered by insurance?
In general, a tummy tuck is considered a cosmetic procedure and is not covered by health insurance. Insurance companies typically classify tummy tucks as elective surgeries performed for aesthetic purposes rather than medical necessity.
However, there are some cases where a tummy tuck may be partially or fully covered by insurance if it is deemed medically necessary. This typically occurs when the excess skin or abdominal muscles are causing functional problems or medical conditions. For example, if the excess skin causes chronic rashes or infections that cannot be resolved through non-surgical means, or if the abdominal muscles are significantly weakened or separated (diastasis recti) and causing functional issues or pain.
In such cases, it may be possible to obtain insurance coverage for the functional component of the procedure, such as muscle repair or hernia correction. However, coverage for the cosmetic component, such as excess skin removal, is unlikely.
It is important to consult with your insurance provider and plastic surgeon to determine if any part of the procedure may be covered by insurance in your specific situation. Your surgeon can help provide documentation and supporting evidence to make a case for medical necessity if applicable.
Is a tummy tuck right for you?
Men and women can both be candidates for a tummy tuck. People who have lost significant amounts of weight often have loose, sagging skin and stubborn pockets of fat that do not respond to diet or exercise.
Tummy tucks are very popular among women who have recently gone through childbirth, since pregnancy can radically alter the physical appearance of the abdominal region. Tummy tuck surgery will tighten the abdominal muscles, which are generally loosened during pregnancy.
You may be a good candidate for a tummy tuck procedure if you are:
In good overall health.
At a stable weight and less than 30 pounds over your ideal weight.
Have extra abdominal skin, abdominal muscle weakness, or both.
Do not plan on becoming pregnant.
Properly informed about the procedure and what to expect.
A non-smoker
What to know beforehand
A tummy tuck is not an effective weight loss treatment.
The surgery will leave a small scar. Although a good surgeon can minimize scarring, you will have a small scar in the bikini area.
Another pregnancy can affect your tummy tuck. It is best to wait until you've finished having children before undergoing this procedure or a full mommy makeover.
Weight gain may negatively affect your surgery results. Substantial weight gain after a tummy tuck can cause skin stretching and reduced muscle firmness.
Types of tummy tucks
There are several types of tummy tuck procedures which to address the amount and location of access skin that needs to be removed. Your surgeon will choose the best option based on your unique cosmetic goals and desired outcome. The following are some of the different types of tummy tuck incisions that can be used during the procedure.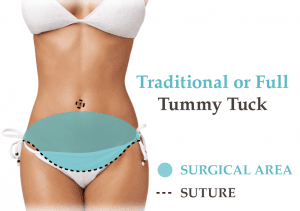 Traditional or full tummy tuck: Traditional tummy tuck surgery is ideal for removing excess skin and fat from the entire abdominal region below the naval. The incision is made from hipbone to hipbone and around the belly button. There will be a scar around the belly button, however your surgeon will likely make the incision on the inner edge to make it more discreet. The horizontal scar can usually be hidden by undergarments or bathing suits.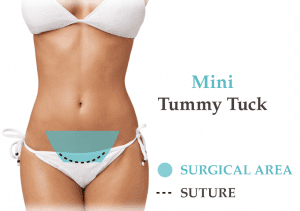 Mini tummy tuck: A mini tummy tuck is effective for getting rid of excessive fat in the lower central abdominal area. The small incision allows the surgeon to address excess skin in the lower abdominal area and the muscles of the lower abdominal wall. Compared to a traditional tummy tuck, the incision line is shorter, and the scar is similar to that of a C-section.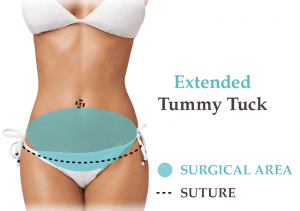 Extended tummy tuck: The extended technique is most effective for getting rid of the overall fat on your abdomen, flanks and back areas ("love handles"). Although it leaves a longer scar, a skilled surgeon will make sure that it can be hidden by most undergarments or bathing suits.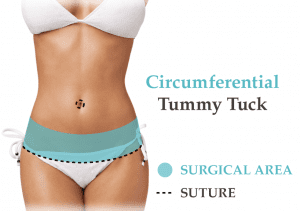 Circumferential tummy tuck: This method addresses everything the extended method does and more. It involves a surgical incision that extends completely around the waistline into the lower back and buttocks. Oftentimes, this approach is used for patients following massive weight loss or bariatric surgery.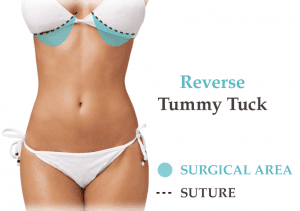 Reverse tummy tuck: This method involves removing excess abdominal skin from the upper abdominal area. An ideal candidate for a reverse tummy tuck has a tight lower abdomen but excessive skin in the upper abdomen. An incision is made below the breasts, giving the surgeon access to the upper abdominal wall and allowing them to remove excess skin. In most cases, scars are hidden within the breast crease. This technique can be combined with other breast procedures, such as a breast augmentation using the same incision, for optimal results.
What happens during the procedure
Here's a general overview of how a tummy tuck is typically carried out:
Anesthesia: Tummy tucks are usually performed under general anesthesia to ensure that you are asleep and feel no pain during the procedure.
Incision: The surgeon makes an incision on the lower abdomen, typically extending from one hip to the other, just above the pubic area. The size and shape of this incision can vary based on the extent of the surgery.
Skin and Fat Removal: Next, the surgeon carefully separates the skin from the underlying tissue and removes any excess skin and fat. In some cases, liposuction may be used to further contour the abdominal area and eliminate excess fat.
Muscle Repair: The abdominal muscles, which may have become stretched or separated due to factors such as pregnancy or weight fluctuations, are then tightened and sutured together. This helps create a firmer and more well-defined abdominal contour.
Navel Repositioning: During a standard tummy tuck, the surgeon may reposition the belly button (navel) to a more aesthetically pleasing location as the excess skin is pulled downward.
Skin Redraping and Closure: The remaining skin is repositioned and pulled tightly over the abdomen. Any surplus skin is trimmed away, and the incisions are closed using sutures or surgical staples. In certain cases, temporary drainage tubes may be placed beneath the skin to prevent fluid buildup.
Dressing and Compression Garments: The incision site is dressed, and a compression garment may be applied over the abdomen to reduce swelling, provide support during the healing process, and help contour the area.
Following the surgery, you will be provided with specific instructions on post-operative care, including proper wound care, pain management, and any activity restrictions.
Recovery time
Each person who undergoes tummy tuck surgery will have a unique recovery experience. There are a number of factors that can influence recovery time, including age, type and extent of procedure, etc.
In general, most patients return to work after 2-3 weeks and resume strenuous exercise in about 6-8 weeks. By 3-6 months post-op, most patients are enjoying their permanent results.
When will you see results?
Although preliminary results are immediately visible after your tummy tuck, it will take 3-6 months to achieve final, stable results. It is important to follow your surgeon's instructions for post-operative care to minimize healing time.
How long will your results last?
Results of a tummy tuck are permanent as long as a healthy weight is maintained. However, significant fluctuations in your weight will negatively affect the abdominal contouring that the tummy tuck provided.