Quick Summary
Dental Veneers
Purpose
The t

hin coverings are placed over your natural teeth

to help protect and improve the appearance
Types of Veneers
Porcelain and composite resin veneers
Procedure Length
On average, the process from consultation to final placement takes approx 2-3 weeks
Possible Side Effects
Sensitivity, discomfort, gum inflammation
Recovery Time
Patients can resume normal activities immediately
Duration of Results
10 to 20 years or more with proper care
Cost
The average cost is between $925 and $2,500 per tooth.
Overview
What are dental veneers?
One of the most popular cosmetic treatments to enhance the appearance of your smile are dental veneers. A veneer is an ultra-thin tooth-colored shell made from composite resin or porcelain that can be placed on top of a natural tooth to correct any number of dental concerns.
If you are looking to transform your smile or correct an underlying dental concern that impacts smile aesthetics, then dental veneers could be the solution for you.
Cost of dental veneers
The average cost for dental veneers is between $250 to $2,500 per tooth according to the American Dental Association (ADA). Here are the average costs for different types of veneers:
Porcelain: $1,000 to $2,500 per tooth.
Composite Resin: $250 to $1,500 per tooth.
Factors affecting the cost of treatment
There are several factors that can affect the cost of your veneer procedure. Here are some of the top factors that can influence cost.
Your Dentist: The experience of your dentist can affect the cost. Cosmetic dentists with advanced training or specialization may charge higher fees.
Location Matters: The location of the dental practice can impact the overall cost.  Dental services in urban areas are typically higher priced compared to rural areas.
Type of Material: The type of material used for veneers (porcelain or composite resin) can significantly impact pricing.
Number of Veneers: Whether you need a single veneer or a full set, the number you require will influence pricing.
Complexity of Case: Complex cases that require significant work and additional time can be more expensive.
Additional treatments: Veneers may be combined with other procedures as part of a comprehensive treatment plan which will increase the overall cost.
If you are considering veneers, schedule a consultation with an experienced cosmetic dentist near you. This will allow you to discuss your aesthetic goals and obtain a better understanding of the specific costs involved.
Are you a good candidate?
To determine if you are a good candidate for dental veneers, your dentist will speak with you about your aesthetic goals during an initial consultation. They will perform a basic oral health evaluation to see if there are any underlying health concerns that may impact your eligibility for treatment. For example, if you have gum disease or tooth decay, these issues must first be dealt with before veneer replacement is considered.
Generally speaking, you're a good candidate for veneers if you suffer from one or more of the following dental concerns:
Chips and cracks: Dental veneers are an excellent solution for chips and cracks to the teeth caused by trauma or another issue.
Tooth discoloration: Minor staining and discoloration can typically be corrected with tooth whitening treatments. However, deep, intrinsic stains can be stubborn and not respond well to bleaching. Veneers are an excellent option to correct such discoloration.
Wear and tear: Teeth naturally wear over time, particularly if you are prone to grinding, or have oral health issues like gum disease or decay. If left unchecked, wear and tear can interfere with bite aesthetics and erode the enamel. Veneers can help correct any of these issues and restore your smile.
Spacing issues: If you suffer from crowded teeth or have unnatural space or gaps between teeth, veneers can help correct these issues. These are typically placed on the upper front teeth.
The best way to determine your candidacy is to schedule a consultation with a qualified cosmetic dentist for an evaluation and exam. Dental veneers may not be the best choice for you if you grind or clench your teeth. Since they are designed to be thin, they can chip or break if put under too much pressure. Your dentist may recommend you wear a plastic dental mouthpiece while sleeping to help mitigate this.
Types of traditional veneers
There are primarily two types of traditional dental veneers commonly used in cosmetic dentistry: porcelain veneers and composite resin veneers. Each type has its own characteristics, advantages, and considerations.
Porcelain Veneers
Porcelain veneers are custom-made from the mold taken on your first visit. Once your teeth are prepared, your dentist will place the veneers on your teeth to make sure the fit and shape are correct. After any adjustments, the teeth are cleaned, and the veneers are bonded on. The benefits of porcelain veneers are:
They resist staining.
They are strong and long-lasting ( "survival rate" up to 20 years).
Less preparation is required compared to a dental crown or cap.
They look authentic.
Composite Resin Veneers
Composite resin veneers are made from a filling material that is color-matched to your teeth and bonded on. Once your teeth are prepared, your dentist will sculpt and fit the resin material to your tooth. A special light is used to harden and bond it in place. Finally, the veneers are polished smooth to look like natural. The benefits of composite resin veneers are:
They are cheaper than porcelain veneers.
There are less visits to the dentist – sometimes they can be placed in just one visit.
While they are not as strong as porcelain veneers, they can be fixed much easier if damaged.
Less preparation is required compared to a cap or crown.
They last between 5 to 7 years.
Veneer placement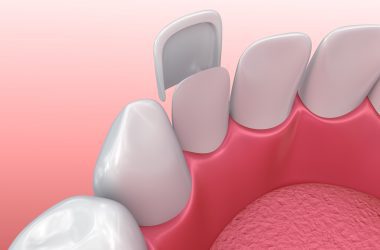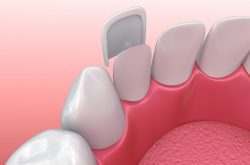 Veneer placement is typically performed over two visits with your dentist, spanning a period of roughly 4 to 6 weeks. Although it is a common, straightforward procedure, it is comprehensive and may requires several hours of chair time.
The first appointment involves a thorough oral health evaluation and planning of veneer coloring, size, and shape. Most dental offices have technologies that allow you to preview your veneers to help you get a sense of what to expect. A mold of your mouth is made (often digitally) to aid with fabrication of the veneers.
To place the veneers, your dentist will numb the area with a local anesthetic to minimize any discomfort. They will then prepare the tooth for placement; this often involves shaping the surface with a small cutting device known as a bur. This process typically removes only a thin layer of enamel from your teeth. However, in certain situations, they made need to remove a significant amount of the natural tooth structure. Depending on the type of veneers you get, the process for placing them can vary.
Recovery and aftercare
Since placing veneers is a relatively simple process, there is little recovery time. You might experience some lingering numbness after the procedure from the local anesthetic, similar to getting a cavity filled.
Tooth sensitivity is also fairly common in the days following placement. Be sure to let your dentist know if your bite feels off after the veneers are replaced so it can be corrected before you leave their office.
It is common to take a few days to get used to the feel of your veneers as well. Your dentist will likely advise you to avoid hard, crunchy foods that could damage the veneers or cause pain while your teeth are sensitive. Eating softer foods can help with this adjustment period.
Even though veneers cover the teeth, it is possible for cavities to develop under or around them. It is important to continue brushing and flossing your teeth and gums every day, and to regularly visit your dentist.
How long will dental veneers last?
If cared for properly, veneers can last for many years.
For more information about dental veneers visit www.mouthhealthy.com.
EnhanceMyself.com relies on sources such as professional medical organizations, government agencies, academic institutions, and peer-reviewed scientific journals to write it's articles. Learn more about how we ensure our content is accurate, in-depth, and unbiased by reading our editorial guidelines.
*Medical Disclaimer: This website does not provide medical advice. Read more.