Quick Summary
Dental Crowns (Cap)
Procedure Length
Same or multi-day placement options
Types of Crowns
Porcelain/ceramic, pressed ceramic, porcelain-fused-to-metal, metal, resin
Purpose
Used as a cover or "cap" to restore a broken or worn tooth to its normal shape, size and function
Possible Side Effects
Infection, pain, gum disease, etc.
Recovery Time
It's normal for patients to experience some initial
sensitivity or discomfort which gradually subsides within 1-2 weeks
Duration of Results
5 to 15 years
(depends on the individuals oral hygiene habits, personal lifestyles, etc.)
Dental Crowns Cost
The average cost is between $800 and $3,000 per crown/tooth.
Overview
What are dental crowns?
Also commonly referred to as a "cap," a dental crown is a fixed dental restoration that is placed on top of a damaged tooth, dental implant, or bridge to replace a missing tooth. Crowns are used in many different dental procedures, ranging from dental fillings and root canal therapy, to full-mouth reconstruction and smile makeover.
Are you a candidate?
Dental crowns offer a durable, aesthetically pleasing solution to a number of dental concerns. If you suffer from any of the following issues, a dental crown could be the perfect solution:
Severe dental cavity that cannot be filled due to a lack of remaining tooth structure.
A broken or fractured tooth that cannot be fixed with dental bonding.
Weakened tooth or teeth in need of support to prevent fracture.
Had a root canal and need to protect the restored tooth.
Discolored or misshapen tooth that needs to be replaced.
Received dental implants and need to cover them.
Types of dental crowns
Dental crowns can be fabricated from a number of different materials, each with their own pros and cons.
Porcelain/Ceramic Crowns: These crowns are more expensive than the other options. They are often used when a crown is required to replace one of the front teeth, or if you have metal allergies.
Pressed Ceramic Crowns: These crowns have a hard-inner core that replaces the metal liner used in all-ceramic crowns. They are capped with porcelain and can be color-matched to provide the best aesthetics. Pressed ceramic crowns last longer than all-porcelain crowns.
Porcelain-Fused-to-Metal Crowns: These crowns are a hybrid between all-ceramic porcelain crowns and metal crowns. The visible structure is made of porcelain and fused to metal creating a stronger, more durable bond. Porcelain-fused-to-metal crowns are a good option for replacing molars.
Resin Crowns: These crowns are typically cheaper than other options. However, they wear down over time, and tend to break easier than porcelain-fused-to-metal crowns.
Metal Crowns: These can be made of several different metals, including nickel, chromium, palladium, or gold. They rarely chip or break, and only require a small amount of tooth to be removed.
Some factors your dentist may consider when selecting the material for your crown include:
The location and function of the tooth that needs the crown
The position of your gum tissue
How much (if any) of the natural tooth remains
The color of your natural teeth
Your dentist will discuss with you which type of dental crown is best suited to your needs.
Fabricating and placing crowns
Depending on your dentist, the process of getting a crown may be done same-day, or over multiple days.
Same-Day Crown Placement
The same-day procedure allows you to receive your crowns much more quickly. Your dentist uses computer-aided design/computer-aided manufacturing (CAD/CAM) to fabricate your crown in-house. That day, you should expect:
Your dentist examines your mouth and takes digital pictures.
Using these images, the crown is made in-office from a block of ceramic.
Once the crown is completed, your dentist will bond it with special adhesive or attach it to the dental implant.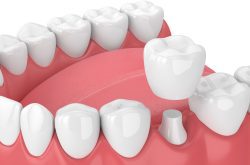 Overall, the process typically takes between 2 to 4 hours.
Multi-Day Placement
Traditional crowns usually require two separate visits to your dentist's office.
During the first visit, your dentist performs a thorough examination, takes x-rays, and makes a mold of your mouth.
Your dentist then prepares your tooth for the crown by filing it down to remove the outer layer.
An impression is made of your filed-down, prepared tooth and the surrounding natural teeth.
Your dentist will place a temporary crown over the prepared tooth while your crown is being fabricated.
The impression is sent to an offsite laboratory that fabricates the crown; this process may take several weeks.
Once the crown is completed, you will have your second visit to remove the temporary crown, and permanently bond the new crown onto your tooth.
Potential issues
There are a number of issues that may arise after your dental crown is placed, including:
Discomfort, sensitivity, and/or pain – Let your dentist know if you experience any discomfort after treatment, or if you feel as though your bite alignment is not right. Addressing these issues early on can prevent damage to the crowns. If your newly crowned tooth still has a nerve in it, you may experience some sensitivity when eating/drinking hot or cold food and drink. Your dentist may recommend using a toothpaste for sensitive teeth to help combat this. If you have pain or sensitivity when you bite down, that usually means the crown is too high on your tooth; if this happens, contact your dentist.
Chipped crown – Crowns that are made of porcelain may chip if you eat hard foods or grind your teeth. Small chips can be repaired with the crown remaining in your mouth. If the chip is too large, or there are many small chips, the crown may need to be replaced entirely.
Loose/falling out crown – Occasionally, the adhesive used to place a dental crown can wear down. This can cause food and bacteria to get under the crown and cause decay on your natural tooth underneath. If your crown feels loose, contact your dentist. If your crown falls off, contact your dentist immediately. This is most likely due to the adhesive wearing down, or an ill-fitting crown.
Cost of dental crowns
There are a variety of factors that can impact the cost of dental crowns, including:
Where the treatment is performed
What type of material is used to make the crowns
The type of dental insurance you have
Whether or not there any underlying dental health issues (tooth extraction, treatment for decay or gum disease, etc.)
Generally speaking, the cost of a single dental crown depends on the material it is made from. Prices per tooth range from:
Porcelain crowns: $800 to $3,000
Porcelain-fused-to-metal: $875 to $1,400
Metal crowns: $830 to $2,465
If your dental crown is part of a restoration to correct damaged or diseased teeth (as opposed to cosmetic), your dental insurance may cover a significant portion of the cost.