Overview
Restylane is an injectable dermal filler approved by the FDA in 2003 that is used to fill fine lines and facial wrinkles, or improve the volume of the lips or cheeks. Once injected, Restylane makes the skin smoother and plumper, erasing the signs of aging. An injectable solution containing hyaluronic acid, which naturally occurs in the body, it can be injected in a matter of minutes in the doctor's office.
Restylane injections offer long-lasting aesthetic results and are particularly effective in treating the signs of aging around the mouth and nose.
On this page
Carla treated 64 yr-old for wrinkles & smile lines with Restylane LYFT/SILK. 2 weeks post treatment – amazing! pic.twitter.com/h9DHlhQ9qE

— Grant Stevens, MD (@DrGrantStevens) February 10, 2016
Which Restylane is Right for you?
Restylane is a family of five injectable products each of which offers slightly different benefits. The five types of Restylane include Restylane, Restylane Silk, Restylane Refyne, Restylane Lyft and Restylane Defyne.
Restylane: The namesake of the family, Restylane adds volume to the skin to give a fuller, more youthful appearance. Injections offset the effects of moderate-to-severe facial folds and wrinkles.
Restylane Silk: The first product to be approved by the FDA for lip augmentation and the correction of wrinkles and lines around the mouth for patients aged 21+.
Restylane Refyne: The Refyne variant of the Restylane family is specifically engineered to offer a softening of "laugh" lines that develop around the nose and mouth while maintaining facial expressions. Results are generally considered to be more natural in appearance.
Restylane Lyft: Formerly known as Perlane, Restylane Lyft differs from the other variants in that it has applications beyond the face. Injections offer a natural volume enhancement for the cheeks and hands, catering to a smoother and fuller appearance.
Restylane Defyne: If you have particularly severe, deep smile lines around the mouth and nose, Restylane Defyne might be your injectable of choice. Like Restylane Refyne, the Defyne variant affords natural facial expressions while helping to soften troublesome laugh lines.
During your initial Restylane consultation, your doctor will discuss your treatment goals to help determine the best type of Restylane for you.
Are You a Candidate for Restylane?
Most candidates for Restylane are looking to hide signs of aging like facial folds and wrinkles. Other patients seek Restylane injections to increase the volume of facial features like the chin, lips, cheeks or hands. Restylane can also add skin moisture, resulting in skin that looks smoother and younger.
Ideal candidates are adults 21+ in good health who are realistic about the potential results of injection and the temporary nature of these results. If you have lost volume in your face or hands but still have good skin elasticity, you may also be a particularly good candidate.
Restylane is not appropriate for people who are pregnant or breastfeeding, are on blood-thinning medications, or who have active skin injections near the intended injection site. Some medical conditions or additional medications may also make otherwise suitable patients ineligible for treatment with Restylane.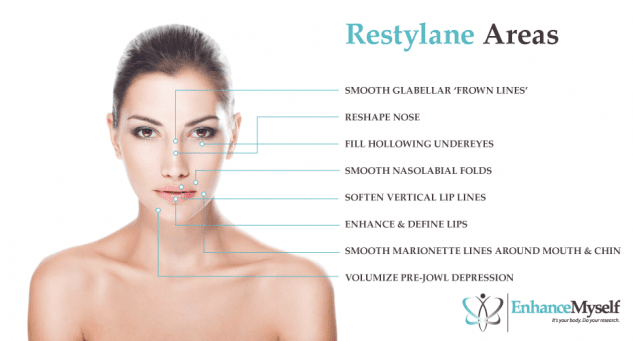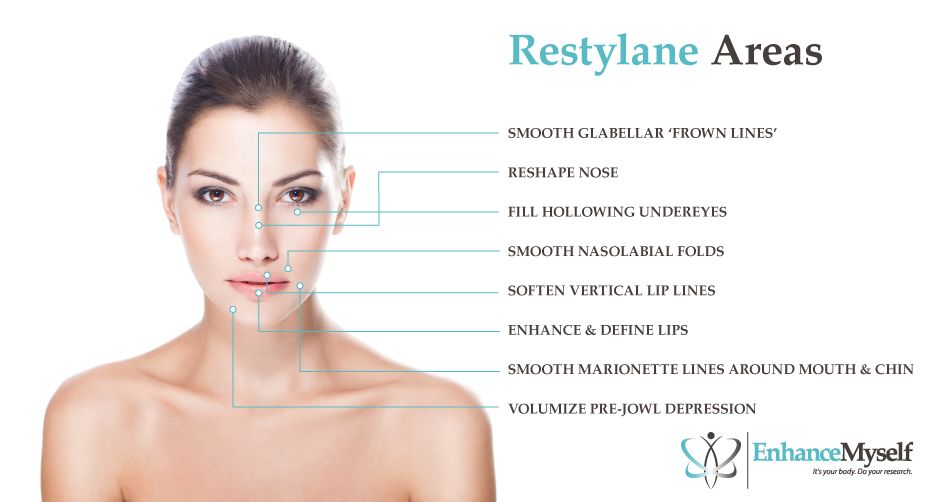 Restylane Treatment Details
Restylane is an in-office, outpatient procedure that increases skin volume, thereby filling in wrinkles and skin depressions from the inside. Treatment involves injection of a particular type of Restylane in specific, targeted points on the face and/or hands.
The injection process usually takes less than an hour. Most patients undergo treatment using no anesthesia, along a small dose of either topical or local anesthesia may be offered. The clear gel is injected through a thin needle into the area of skin being treated. Immediately after the Restylane has been injected, patients are free to leave the doctor's office.
Results vary, but you should begin to see some aesthetic benefits immediately after treatment. You can expect to see the full effect of Restylane injections within two weeks of treatment. Depending on the severity of the treatment area and the desired aesthetic goals, more than one initial Restylane treatment may be needed for optimal effect.
You can expect the results to last roughly nine months to a year, though lip enhancement tends to wear off several months earlier. It's not uncommon for patients to get additional Restylane treatments as soon as six months after initial injection.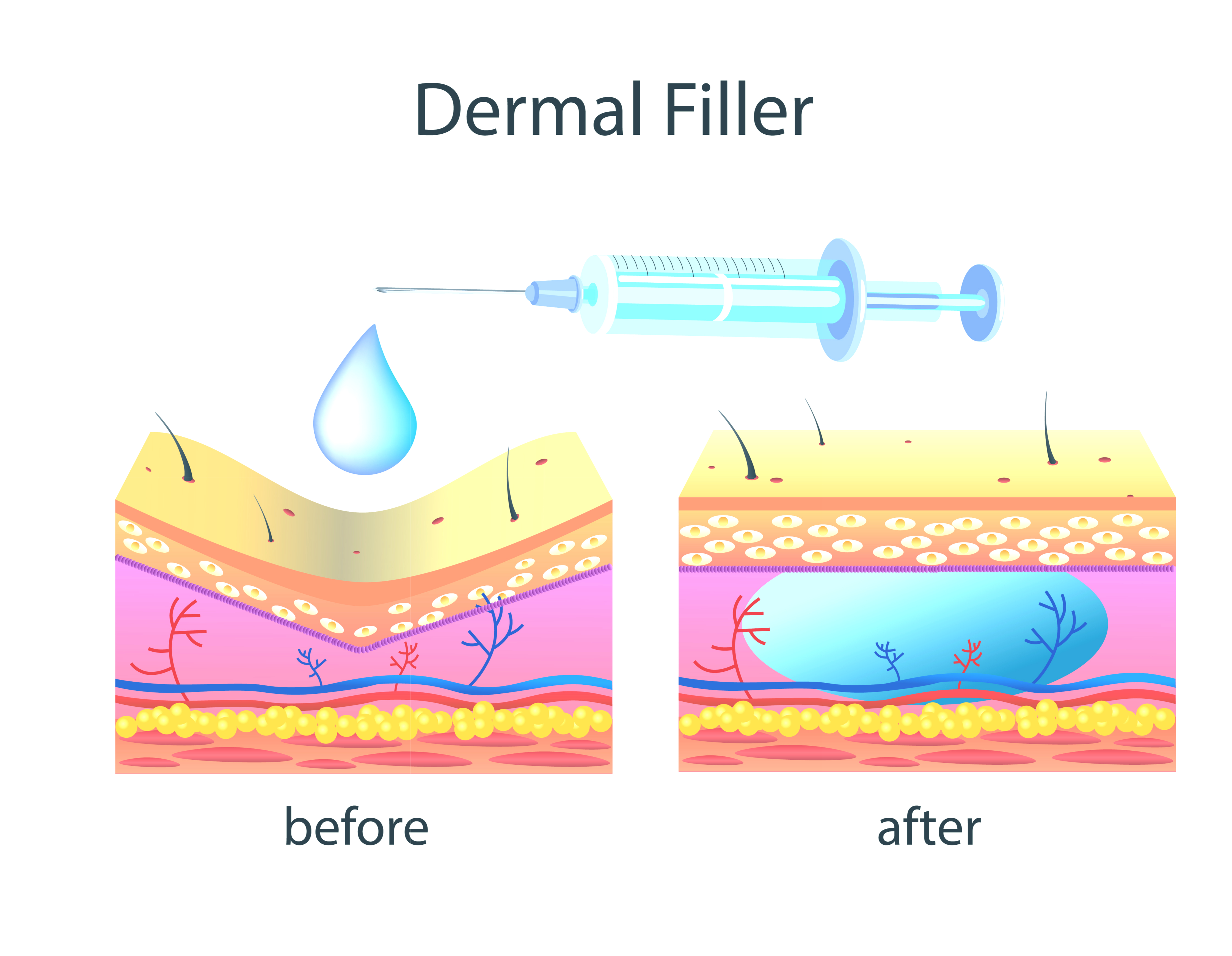 Restylane Risks
Dermal filler injections like Restylane are considered to be relatively safe, non-invasive cosmetic treatments, but they are not without potential risks. The risks of Restylane injections include swelling, redness, and infection, although most patients experience no side effects or complications. Unlike some other dermal fillers, Restylane only contains components found naturally in the body, and does not carry the risk of an allergic reaction.
Recovery Time after Restylane Injections
There is no downtime after injection, and no bandages or dressings must be worn over the treatment area. After undergoing Restylane treatments, you may notice minor swelling, itching, redness or bruising around the injection site. However, these side effects should subside within one to two days, and you can return to work and other activities immediately. Some doctors advise their patients to avoid strenuous exercise for two to three days after treatment.
Over time, the injected Restylane will be absorbed by the body, and the results will fade.
Cost of Restylane
Restylane injections average approximately $350 to $500 per cubic centimeter (cc), a measure of the volume of Restylane gel injected. The volume of gel required for your treatment session depends on the desired results, as well as the deepness of the wrinkles. While some patients receive only 1cc during each treatment session, others require up to 3cc to achieve their aesthetic goal. Restylane injections tend to be among the least expensive of all cosmetic injectables. If you wish to spread out this cost, ask your doctor about financing options and payment plans.